ANALYSIS: Ministerial Nominees Screening; Saraki and His Moral Burden
Featured, Featured Contributors/Columnists, Latest News
Friday, October 2nd, 2015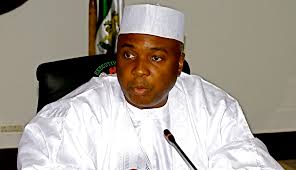 By Tajudeen Balogun, Head, African Examiner, Nigeria Bureau
BALTIMORE, MD (AFRICAN EXAMINER) – I wish to begin this commentary with an aspect of Thursday's Nigerian 55th Independence Anniversary, significantly for its relevance on the focus today. The area that inevitably caught my attention was many anniversary (venue) pictures (as posted on social media) of President Muhammadu Buhari and Senate President, Bukola Saraki, while exchanging pleasantries and giggling. Some of the comments, were especially those that expressed reservation and shock over the warm disposition of Buhari to Saraki, despite his (Saraki's) strain relationship with the ruling APC leadership as well as the ongoing trial at the Code of Conduct Bureau (CCB) Tribunal on 13 count alleged criminal charge, including false declaration of assets.
Another significant factor for the reservation is Mr. President's reported refusal to grant Saraki audience ever since June, when elected the Senate President and emergence of the upper legislative Chamber's Principal Officers – both exercises which were against the wish of the ruling party's leaders.  
Really, I feel reaction like this is rather emotional. I also risk saying that the folks expressing shock over the video and pictures of President Buhari and Saraki 'having a nice time' were taking the matter somehow too far. I hold that it was expected of the fellow compatriots to have realized that the event in question was a public function, thus whatever differences that might be existing between the duo must be temporarily buried and suspended, so as to give room for pleasant impression and good image. If you care to know, that is what is described as diplomacy – "not necessarily mean it, even when you say yes".
A quick reminder to the worried and not too happy folks here. Several years back, the former National Chairman of the opposition Peoples Democratic Party (PDP) (while still the ruling party), but now a Chieftain of the ruling All Progressives Congress (APC), Chief Audu Ogbe was invited by the former President Olusegun Obasanjo to a sumptuous Iyan (pounded yam) lunch at the Presidential Villa. What followed few hours after the 'farewell' Iyan Lunch was the news of Ogbe's sack as the National Chairman of the party! This is not to suggest similar treatment from Buhari to Saraki anyway. And this is if at all, Buhari had hands in Saraki's present travails.
Now the link of the above on today's focus. The public has been very audible and categorical about the moral burdens and questions on Saraki, still occupying the number three position, despite the heavy charges against him, which he is still answering at the CCB tribunal. Members of the public have therefore agitated that due to the alleged criminal charges against him and the fact that he is a suspect; he should have honourably stepped aside and allowed the trial to last and prove his innocence.
Some would say that is not Nigerian – "not in our character", so to speak. And so, Saraki, despite the moral question, has received the much awaited first batch of President Buhari's Ministerial list and he is equally set to preside over one of the historic plenary session of the 8th Senate. This is very critical and so serious.
The question now is to what extent can Saraki be 'businesslike' (doing a serious job) or attempt to play politics with his supporters (from APC and PDP) on the National assignment before them? As I painted earlier, atmosphere might not be rosy after all, should Saraki jettison the diplomacy, the like he and Buhari depicted at the Independence celebration ground, especially if as usual, tilts to the game of his allies and pushes for a fight back? This is not impossible at all.
If anyone asks me, I won't mince words to say that Saraki is definitely in a fix on the task of Ministers' screening which commences Tuesday next week. On the party affiliation, Saraki will be under pressure by the PDP Senators, whom he got total support from, to be elected as the Senate President, to discredit or truncate any appointee who they consider their political enemy. More on this later. Also, Saraki might be tempted to yield to the antics of his supporters, as he is still keen to maintain and keep his position. On the other way, he might struggle hard to favour his President and his party leader (Buhari); but to what extent could he go in doing this, without the conviction of the PDP senior Lawmakers who voted him? Saraki is definitely in trouble!
Another dimension to the likely drama that will begin to play out from Tuesday on the Ministerial screening is avalanche of sponsored and indicting petitions by some politicians against certain nominees. For instance, I will not be surprised if some errant persons or Senators from State like Rivers, acting on behalf of their "Caretaker Governor" coming up with petitions, advocating and justifying why their prime and only target – the immediate past Governor of the South South State, Rt. Hon. Rotimi Chubuike Amaechi, is not qualify and does not merit to be appointed as a Minister.
If Nigeria were to be a country where respect is accorded to the rule of law and had advanced in democratic rule (before now) those Senators from Rivers State and their "Caretaker" Governor would not have been in the first place, occupied their present positions, let alone accusing someone of misconduct. In fact, they are supposed to have been prosecuted and answering questions on genocide and crimes against humanity. Shameless men!  
Similarly, Amaechi's counterpart – the former Lagos State Governor, Mr. Babatunde Fashola (SAN) is most likely to face the same music. Recall the N78.3 Million website saga against him and other alleged bogus spending linked to his eight years administration. I do not rule it out, that some hired busy bodies, who might be masquerading as members of certain NGOs, Civil Societies or political parties might come forward and stage protests against Fashola's nomination. They might as well come forward with petitions to stall his screening and approval. In the same vein, the first Executive Governor of Abia State, Chief Ogbonaya Onu might not escape Amaechi and Fashola anticipated treatment. Former Ekiti State Governor, Dr. Kayode Fayemi might also face similar wrath, especially from his reckless and restless successor or his proxies.  
Of course, this is if they eventually make the first list of the Ministerial nominees sent by President Buhari and received by Saraki late Wednesday. Well, if I were in any of the four mentioned above, I would prepare myself for a worst screening exercise, otherwise, the experience might be shocking, unpalatable and disastrous. As for me, President Buhari's 'kitchen' cabinet without the first trio, given their impressive and outstanding past in politics and good governance would be a big minus. I have articulated and rationalized this in my last piece, with the title: "Speculative Ministerial List And Amaechi, Fashola, Onu's Dimension" published Friday, September 18, 2015. So, Hon. Amaechi, Mr. Fashola, Chief Onu and Dr. Fayemi, provided you eventually make the list as being lately speculated, be on the lookout for enemies, who will attempt with the all means possible to turn back, the hands of the clock, please!
And less I forget, the ruling APC prolific writer – National Publicity Secretary, Alhaji Lai Mohammed, who has also been suggested to be on the List might also need to buckle up for a fierce war with those that might be sponsored by his kinsman who heads the upper Chamber to protest against him, for always speaking and writing against him, especially when his ruffling of feathers with their party leaders began and till it lasted. Mohammed should remember his strong 'enemy' has clout; has a lot of money he can conveniently throw around and organize people to protest and echo his personal grievances. He should remember that he sponsored the show of shame which was truncated by angry youths in Ilorin last Thursday, at the Sallah praying ground. Also another N1000 each, to every participant of solidarity (rally) was organized by him and probably with his supporters Tuesday (this week) around the National Assembly complex, Abuja to drum support for him when the NASS resumed from another long recess. Therefore, he might witness before or during the screening, an anti-Lai Mohammed rally, in an attempt to edge him out. So, Alhaji Mohammed, you must begin to think about the way out and be wary.
Still, even if any Ministerial nominee is actually guilty of an allegation, who will stall his or her screening and approval? The Senate; which one? The one headed by Senator Saraki who is standing trial on alleged criminal charges? What an irony; what a fix and what a moral burden!   
President Buhari's delay in releasing the list of his to-be Ministers was primarily due to cleansing of the rots he inherited from the immediate past administration as well as the desire to put the government machinery on a right and firm footing. However, if morality must be put into perspective, Saraki, his position and the trial he is standing are very strong points for Mr. President to hold back the list. Or how can an accused fellow be on top of a process to screen and approve Ministers, believed to be with resounding pedigree, yet, might likely be subjected to a mere political debate and reckless attempt to disqualify them? What an intriguing situation; what a mess and what a looming, disgusting scenario!    
A word of advice for Saraki. The Senate President should be warned and realized he lives in a glass house, therefore must and should not throw stones. Saraki must be told that no matter how crafty or smatter he and his followers might attempt, Nigerians are thinking 'aloud' and ahead too. Therefore, he must be extraordinarily careful and watchful in acceding to the whims and caprices of his supporters, especially, those of them, who ordinarily do not wish the present administration success, just to score some political points.  
Senator Saraki must also realize that he is sitting on a keg of gun powder, hence if carried away by the personal interest and sinister wishes of his supporters, Nigerians will revolt against them and the outcome will definitely be undesirable. I therefore beg of you, that you should not try the will of the 'mob'. Be told again that on this "Change" Government and your moral burden, you must manage your ego properly and don't make further attempt to be 'smart'.
Finally, Senator Saraki, as it is generally held by Nigerians, you lack the moral to remain the number three man of this country, (at least for now). Therefore, on the assignment which your chamber begins next week, the best you can do for yourself and manage to salvage your political career is to shun treacherous politics (especially those that will be influenced by your opposition supporters); bickering; fight back; vendetta and vindictiveness. If you manage to be "totally yourself" and be a good ambassador of the party you rode on its platform to the 8th Senate, your battered image might probably be redeemed; you might also succeed in re-aligning yourself with your party leadership and might be off, or probably rescued from the present legal logjams you are already plunged. The public will also forgive and overlook your over bearing. The options are yours. So, good luck to you and the nominees!       
E-Mail: tjaysuccess10@gmail.com; Facebook: Tajudeen Balogun;
Twitter: @ tjaysuccess10
Please follow and like us:
Short URL: http://www.africanexaminer.com/?p=26139