Biafra: South East Caucus in NASS Wades into Nnamdi Kanu's Case
Featured, Latest News, News
Thursday, March 31st, 2016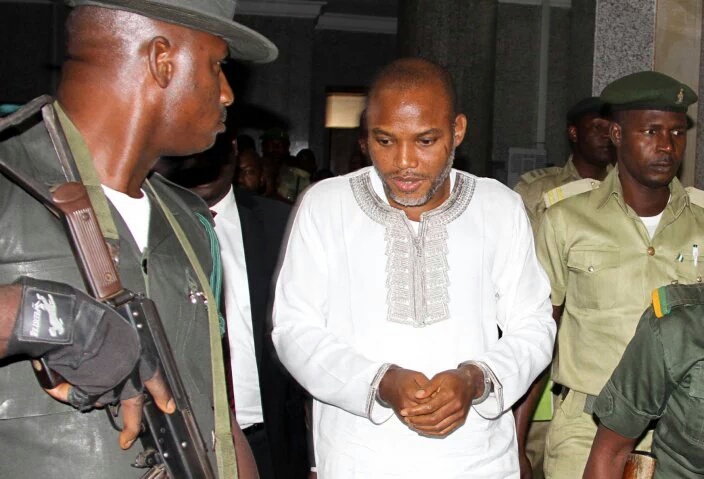 By IGNATIUS OKPARA, Umuahia
Senator Theodore Orji, representing Abia Central senatorial district, has disclosed that the South East Caucus in the National Assembly is working towards ensuring that the case of the leader of the Indigenous People of Biafra, IPOB, Nnamdi Kanu is amicably resolved.
Speaking with newsmen in Umuahia, the Abia State capital, the ex- Abia governor, said the matter was being handled in a manner that it would be settled in an amicable way deviod of rancour and acrimony.
Hear him: "The Nnamdi Kanu matter even as it is in court and one should not talk about it, we in the National Assembly from the South East are not keeping quiet, we are working to ensure that an amicable solution to it will be arrived at to ensure peace in the zone."
Attack on Farmers by Fulani Herdsmen
On the issue of incessant attacks on farmers and communities in parts of Nigeria, the lawmaker, accused security operatives of being partial in the manner the respond to the menace.
He claimed that security operatives show "signs of partiality where they should be impartial," while handling matters regarding Fulani herdsmen.
According to him, the job of security personnel is to secure lives and property of tax payers who pay their salaries, and wondered why they should be partial.
He stated that it is sad that people who are supposed to be cattle herdsmen would be carrying AK 47 automatic rifle and attack defenceless people.
The law maker, pointed out that the issue of Fulani herdsmen attacking defenceless people over grazing ground is not peculiar to South East alone, stressing that similar incidence occurred in Agatu in Benue state.
"Even when I was governor of Abia we had the same problem over grazing land in Ohafia."
Orji stressed that the senate is on the verge of providing grazing grounds for herdsmen so as to bring an end to the continuous crisis between herdsmen and their host communities.
"Once the grazing grounds are provided with all the amenities in such places, we are sure that the issue of clashes between indigenes and Fulani herdsmen will be a thing of the past," he declared.
Please follow and like us:
Short URL: http://www.africanexaminer.com/?p=31399