Blatter Suspended For 3 Months By FIFA Ethics Committee
Featured, Latest News, Sports
Thursday, October 8th, 2015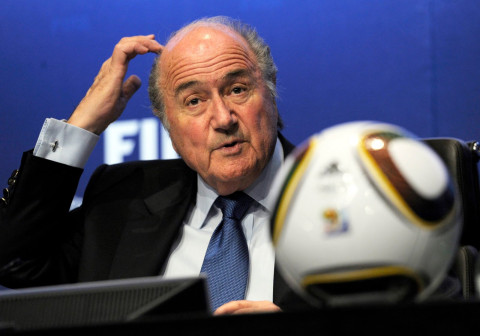 BALTIMORE, MD (AFRICAN EXAMINER) – The embattled FIFA President, Sepp Blatter has again come under fire as he has been provisionally suspended by the world Football governing body's ethics committee members for three months.
The committee's decision followed the Swiss Attorney General who has opened criminal proceedings against Blatter, who has occupied the FIFA highest position for 17 years.
Specifically, the Septuagenarian Blatter was accused of signing a contract "unfavourable" to football's governing body and making a "disloyal payment" to UEFA President Michel Platini. The 60 years old Ex-French football star was in the approach and after the aborted election of Blatter was a staunch critic of the troubled FIFA head.
Consequently, the ethics committee tribunal is also billed to decide whether to take action against Platini and former FIFA Vice President, Chung Mong-Joon, who both aspired to succeed Blatter.
Chung had hit very hard at Blatter, describing him as "a hypocrite and a liar" threatening a legal action over embezzlement of FIFA funds.
A member of the FIFA Committee and former Senegalese Sports Minister, Abdoulaeye Makhtar Diop, confirmed in a statement that the members would focus on the topics of the Swiss Sepp Blatter, FIFA President, the Frenchman Platini, and the South Korean Mong-Joon.
Please follow and like us:
Short URL: http://www.africanexaminer.com/?p=26249