Breaking News: Nigerian Nurse Dies Of Ebola, 5 other Cases Confirmed
Featured, Latest News
Wednesday, August 6th, 2014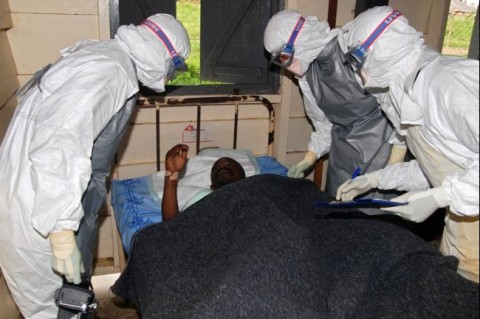 By Ayo Balogun, Lagos
A nurse in Lagos, Nigeria has died on Tuesday of the deadly Ebola Virus Disease (EVD).
The Minister of Health, Prof. Onyebuchi Chukwu confirmed the dead of the female nurse on Wednesday morning at a news conference, saying that with the death of the nurse, Ebola had so far claimed the first Nigerian victim.
He said Nigeria had now recorded seven confirmed cases of Ebola Virus Disease (EVD), as the first one was the index case-the imported case from Liberia of which the victim is now late.
"Yesterday, 5th August, 2014, the first known Nigerian to die of the EVD was recorded and this was one of the nurses that attended to the Liberian. The other five cases are currently being treated at the Isolation ward in Lagos.
"It is pertinent to note that all the Nigerians diagnosed of the EVD were primary contacts of the index case. The 24/7 Emergency Operations Centre which I intimated you of in my last press conference will be fully functional by tomorrow.
"It will be headed by Dr. Faisal Shuaibu as the Incident Manager. He will later today lead a 6-man inter-agency team drawn from National Primary Health Care Development Agency (NPHCDA), the US CDC, the WHO, UNICEF and the Bill and Melinda Gates Foundation to Lagos to complete the setting up of the Centre.
"They will be joined by the other personnel from the Lagos State Government and the federal hospitals in the Lagos area as well as the Nigeria Centre for Disease Control.
I have also appointed a Director of Communication and Community Mobilization who will be based in Lagos- Prof. O. Onajole of the Lagos University Teaching Hospital," he stated.
The minister disclosed that the Federal Government is embarking on recruiting additional health personnel to strengthen the team who were currently managing the situation in Lagos, adding that arrangements were being made to procure isolation tents to quicken the pace of providing isolation wards in all the states of the federation and the Federal Capital Territory.
"We are also setting up a special team to provide counselling and psychosocial support to patients, identified contacts and their families. Within the week, the Minister of Information and I would be visiting Lagos State to assess the situation on ground. I once again reassure Nigerians that the government is working hard to ensure the containment of the outbreak," he said.
Dr. Idris who revealed that eight others, suspected to be infected with EVD were presently being quarantined, appealed to the striking doctors in the state to down tools, help and complement the efforts of the nurses as well as other senior health workers with a view to checking and controlling further spread of the deadly disease in the state.
The Commissioner also confirmed that about 30 members of the state chapter of Nigeria Medical Association (NMA) have volunteered to help in the rescue operations against EVD, ongoing at the state's Mainland Infectious Diseases Hospital, Yaba.
Please follow and like us:
Short URL: http://www.africanexaminer.com/?p=15714