Ebonyi Elders Blast Umahi For Insulting Ex-Governor Elechi
Latest News, News Across Nigeria, News From The State
Thursday, May 3rd, 2018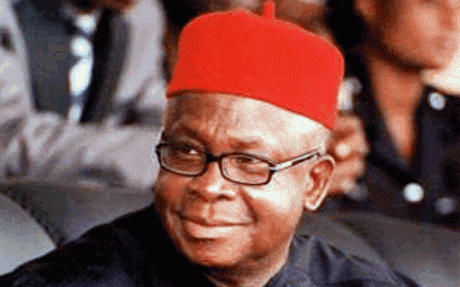 From  Ignatius Okpara, Abakaliki
(AFRICAN EXAMINER) – A group under the umbrella of  "Concerned Ebonyi Elders" has berated the state  governor Dave Umahi, for recently making some negative statements against  his predecessor Chief Martin Elechi.
The governor, was reportedly quoted as calling Elechi, a "useless elder." while addressing stakeholders from Ikwo and Izzi areas of the state who visited him  at at the Executive Council Chambers of the Government House Abakaliki last recently, with respect to the ongoing internal conflict between the two brother communities.
Umahi, was equally  reported to have asked journalists who covered the visit  to make sure that they report the insult on the immediate past  governor whom he served under his regime as Deputy governor of the state.
He  was said to have been angered  by comments credited to Chief Elechi who alleged that the crisis between Izzi and Ikwo communities, which has claimed many human lives and properties valued several millions damaged was politically motivated.
However, the elders in statement made available to newsmen in Abakaliki, the Ebonyi  state capital, accused the Umahi, of being reputed for "such reckless outbursts since he mounted the saddle of leadership in the state, with his "crushing and grinding" of his political opponents mantra.
"But Governor Umahi carrying such inanities to this embarrassing extent of insulting an elderly person old enough to be his father clearly depicts him as a man that revels in desecrating time honoured Igbo values, morals and traditional mores which require the young to revere and respect elders.
According to the statement  signed by Dr. Orj Igwe and Barr. Nwogha Denis "This, to us, is not only tragic, but a hopeless symptom of poor breeding.
"Indeed, our governor has crossed the red line and now dancing naked in the market place! He has desecrated the high office he stumbled upon! He has sown the whirlwind, and of course must face the karmic law!
"This is akin to a foolish boy who vomits abomination and still boasts that he has given a befitting retort to an elderly person. How puerile!
"On the side of age and contribution to humanity and the creation and development of Ebonyi state, can any sane person find a common ground to compare Governor Umahi with Chief Elechi?
"How old was Umahi when Chief Elechi started his public service career which spans decades, right from the old Eastern Region?
"Who is really "useless" between Chief Elechi and Governor Umahi? Where was Umahi during the struggle for the creation of Ebonyi state? Can Umahi boast of better education than Elechi?
"What else is the definition of ingratitude and one biting the finger that fed him? How soon has Umahi forgotten how he was resettled in Ebonyi and given political and economic foothold after his ill-fated business in the Niger Delta?
"How soon has Umahi forgotten how the elder statesman, against all odds, made him acting chairman and subsequently substantive chairman of the Peoples Democratic Party (PDP) in Ebonyi state?
"How soon has he also forgotten how he was made the Deputy Governor of Ebonyi state and given every power to run the state, a fatal error that Chief Elechi has come to live with?   What has Chief Elechi done to Governor Umahi to deserve all the insult and witch-hunt?
"Going by the way the governor deceptively quotes the Holy Bible and invites reputable men of God to the state for a show of piety and religiosity, one would have expected him to be conversant with Leviticus 19:32, on the need for the young to respect his father, even if pretentiously.
"Since your reason for the diatribe on the respected elder statesman is his alleged remark that the communal strife was politically motivated, has the body language and insensitivity of government not suggest so in strong terms?
"Chief Elechi is from Echialike. Echialike and Enyigba communities have been living in peace as good neighbours for decades. The two communities have no land dispute or any dispute whatsoever to warrant such wanton destruction of lives and property.
"How could Governor Umahi conveniently forget that he once addressed Chief Elechi as 'icon of knowledge, father of the state and a man who is an embodiment of wealth of knowledge?''
"Governor Umahi has just proved the former governor right because Chief Elechi had said that why he declined his support to Governor Umahi during the run up to the 2015 general elections was because he discovered that Umahi was not tolerant of opposition, lacks democratic ideals and not the man to lead Ebonyi to prosperity.
"This also tallies with the position of Prof. Bernard Odoh, who recently resigned as Secretary to the State Government (SSG) under Governor Umahi, who also made reference to Governor Umahi's 'crushing and grinding' proclivity.
"We are saying that ENOUGH IS ENOUGH! Umahi should face his governance and stop insulting elders before the wrath of God will befall him.
"He should also know that any attack on the image of Chief Elechi as one of the founding fathers of Ebonyi state, is an attack on the image of Ebonyi state, and Ebonyi people will employ all legitimate means to resist that.
"When contacted,  Umahi said he would not join issues with anybody, saying "they are confused expired and corrupt people. I am busy to join issues with lazy, idle and crooks who stole the state dry for eight years without anything to show for that.
Please follow and like us:
Short URL: http://www.africanexaminer.com/?p=43720