In London, Buhari Pledges To Block Loopholes Used By Politicians To Siphon Nigeria's Money
Featured, Latest News, Nigeria 2015 Election
Thursday, February 26th, 2015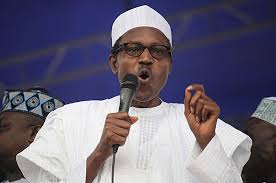 The opposition All Progressives Congress (APC) Presidential candidate, General Muhammadu Buhari (rtd) has promised if elected the number one citizen, the entire countries in the world will have no problem in relating and dealing with Nigeria.
Buhari said this Thursday in Chatham House, London while addressing journalists, members of the civil societies, politicians and foreigners.
Speaking on the challenge of insecurity, the opposition candidate held that the problem with the Nigerian ruling PDP were consistent lack of political will and genuine will to confront insurgency headlong.
"What has been lacking is the political and genuine will to tackle the challenge. If elected, the world would have no problem with Nigeria" said General Buhari.
Buhari equally promised to improve intelligence, initiate and promote industrial and structural developments across the country, as well as always remain in the fore front, to lead the country to her original place in the comity of nation.
While responding to questions on how he would tackle corruption, Gen. Buhari while citing that the country's economy was rated 26 in the world, as well as growing at about 7 per cent, assured that he would fight the social evil, by laying good example; blocking the loopholes in budgeting and directing regular publication of the NNPC revenues as well as other Federal government parastatals.
The former Head of State who pledged he was determined to lead Nigeria to "prosperity, not adversity" held that he subscribed to "multi-party democracy", noting that there were so many Nigerians who believed in the same principle.
APC Presidential flag bearer also promised he would not engage corrupt politicians in his administration.
On the country's general elections, Gen. Buhari urged the international community to continue to focus on Nigeria at this very critical moment.
"Given increasing global linkages, it is in our collective interests that the postponed elections should hold on the rescheduled dates; that they should be free and fair; that their outcomes should be respected by all parties; and that any form of extension, under whichever guise, is unconstitutional and will not be tolerated.
"With the fall of the Berlin Wall in 1989, the dissolution of the USSR in 1991, the collapse of communism and the end of the Cold War, democracy became the dominant and most preferred system of government across the globe. That global transition has been aptly captured as the triumph of democracy and the 'most pre-eminent political idea of our time.' On a personal note, the phased end of the USSR was a turning point for me. It convinced me that change can be brought about without firing a single shot" the opposition Presidential established.
Gen. Buhari defended that his Military junta intervened because "we were unhappy with the state of affairs in our country. We wanted to arrest the drift. Driven by patriotism, influenced by the prevalence and popularity of such drastic measures all over Africa and elsewhere, we fought our way to power. But the global triumph of democracy has shown that another and a preferable path to change is possible. It is an important lesson I have carried with me since, and a lesson that is not lost on the African continent".
On his role as former Military leader, Gen Buhari said he has heard and read references to him as "former dictator in many respected British newspapers including the well regarded Economist" adding that, without sounding defensive, dictatorship aligned with military rule, though some might be less dictatorial than others, yet asserted he took "responsibility for whatever happened under my watch".
"I cannot change the past. But I can change the present and the future. So before you is a former military ruler and a converted democrat who is ready to operate under democratic norms and is subjecting himself to the rigours of democratic elections for the fourth time.
"You may ask: why is he doing this? This is a question I ask myself all the time too. And here is my humble answer: because the work of making Nigeria great is not yet done, because I still believe that change is possible, this time through the ballot, and most importantly, because I still have the capacity and the passion to dream and work for a Nigeria that will be respected again in the comity of nations and that all Nigerians will be proud of", the retired Army Chief proffered.
He also established that in the last two decades, democracy has grown strong roots in Africa and as at the time he was a military head of state between (1983 and 1985), only four African countries held regular multi-party elections, but the number of electoral democracies in Africa, according to Freedom House, jumped to 10 in 1992/1993 then to 18 in 1994/1995 and to 24 in 2005/2006. Gen. Buhari added 42 of the 48 countries in Sub-Saharan Africa conducted multi-party elections between 1990 and 2002.
Going down the memory lane, former Head of State recalled that between 2000 and 2002, ruling parties in four African countries, including Senegal, Mauritius, Ghana and Mali, peacefully handed over power to victorious opposition parties.
"But the growth of democracy on the continent has been uneven. According to Freedom House, the number of electoral democracies in Africa slipped from 24 in 2007/2008 to 19 in 2011/2012; while the percentage of countries categorised as 'not free' assuming for the sake of argument that we accept their definition of "free" increased from 35% in 2003 to 41% in 2013. Also, there have been some reversals at different times in Burkina Faso, Central African Republic, Cote D'Ivoire, Guinea, Guinea-Bissau, Lesotho, Mali, Madagascar, Mauritania and Togo. We can choose to look at the glass of democracy in Africa as either half full or half empty.
"With this important destination in mind, it is clear that though many African countries now hold regular elections, very few of them have consolidated the practice of democracy. It is important to also state at this point that just as with elections, a consolidated democracy cannot be an end by itself. I will argue that it is not enough to hold a series of elections or even to peacefully alternate power among parties, Buhari posited.
The opposition Presidential candidate held that the major difference this time around was that for the very first time since transition to civil rule in 1999, the ruling Peoples Democratic Party (PDP) was facing its stiffest opposition so far from APC, despite previously having about 50 political parties, but with no real competition.
Other reasons why much attention has been paid to Nigerian coming general polls, beside the stiff competition launched by the opposition Gen Buhari stated were the shadow of huge security, economic and social uncertainties in Africa's most populous country and largest economy.
He lamented that Boko Haram has sadly put Nigeria on the terrorism map, "killing more than 13,000 of our nationals, displacing millions internally and externally, and at a time holding on to portions of our territory the size of Belgium".
Please follow and like us:
Short URL: http://www.africanexaminer.com/?p=22442