IPOB kicks Against Appointment of Justice Nyako as New Trial Judge for Kanu's Case
Latest News, News
Wednesday, October 26th, 2016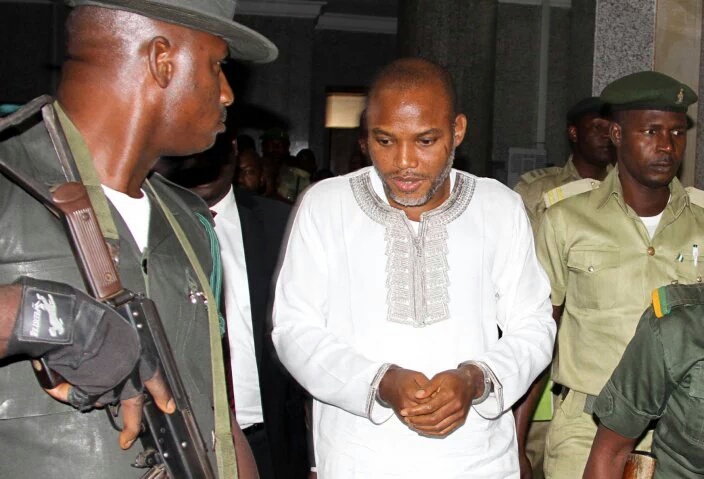 By IGNATIUS OKPARA, Enugu
ENUGU NIGERIA, (AFRICAN EXAMINER) – The Indigenous People of Biafra, IPOB, has kicked against the recent appointment of Justice Binta F. M. Nyako, as the new judge to continue with the trial case of leader of the group and promoter of Radio Biafra, Mr. Nnamdi Kanu and others.
IPOB's Media and Publicity Secretary, Mr. Emma Powerful, in a statement made available to newsmen in  Nnewi, Anambra state, South east Nigeria on Tuesday, alleged that Justice Nyako is a sister to President Muhammadu Buhari and also hail from same Kastina with him.
The group stressed that it does not have grudges against Justice Nyako, who it described as an erudite judge that had presided over landmark cases, but that being a sister to the President and coming from the same state with him will definitely make her dance to the tune of the President, who they alleged is "bent on convicting our leader, Mr. Kanu."
According to the statement, already, Justice Nyako, had started showing that she will be biased by fixing November 8, the same date the Economic Community of West Africa States, ECOWAS court fixed for further hearing of Mr. Kanu's case.
The statement read thus: "We, IPOB and the Directorate of States DOS, worldwide, wish to alert the public and the world over the assignment of a new trial judge for our leader Mr. Nnamdi Kanu by the Chief Justice of the Nigeria.
"The appointment of Justice Binta F. M. Nyako as the trial judge for Mazi Kanu's case was masterminded by the Federal Government, and the appointment came after the harassment and intimidation of judges, who were working tirelessly to address the injustice perpetrated by the government of the day against our leader and some perceived enemies of the government.
"In as much as IPOB has no grudges against Nyako, being aware that she is an erudite judge, who has sat over landmark cases, but with the current harassment of judges and the Federal Government's interest in the case against our leader, we do not rule out bias by her in handling our leader's case."
Kanu, and some IPOB members have been standing trial for several months now over alleged treason and felony.
Please follow and like us:
Short URL: http://www.africanexaminer.com/?p=36126