Lagos APC Guber Primaries: Tinubu, Fashola In Final Clash Over Ambode, Shasore
Featured, Latest News, Nigeria 2015 Election, Uncategorized
Wednesday, December 3rd, 2014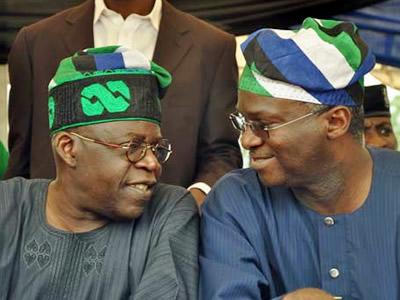 *Also, Analysis of Lagos APC Governorship Front Runners
The National leader of the All Progressive Congress (APC), Bola Tinubu and the Governor of Lagos, Babatunde Fashola are in a final battle over who becomes governor of Lagos next year.
The final battle will culminate at the party's governorship primaries at the Onikan Stadium on Thursday. While Tinubu wants the former Accountant General, Lagos State, Akinwunmi Ambode to succeed Fashola, the incumbent governor wants his former Attorney General and Commissioner for Justice, Supo Shasore to succeed him.
African Examiner's gathered in the primaries, Ambode is clearly the favourite, but Fashola has vowed never to support his candidacy.
The governor first put forward his Commissioner for Works and Infrastructure, Dr. Kadri Hamzat as his choice, but dumped him for Sasore.
Sources said the governor is ready to match money for money in the primaries to ensure that Sasore emerged the governorship candidate of the party adding that "he is doing all he could to install his 'puppet' as governor of Lagos next year."
It is obvious that Tinubu is in support of the candidacy of Ambode, which may see him emerge as the party's flag bearer, but Sasore's last minute challenge is making the battle looks more interesting.
Fashola is bent on ensuring that his candidate comes out victorious.
There is no doubt that the governor is spoiling for a showdown with Tinubu over who emerges winner of the primaries. On Monday, Sasore showed to all that he should not be written off as he bought the main editorial content in Punch, Thisday and Vanguard front pages to the tune of over N75 million. This shows that Sasore has a strong backing in Fashola.
The rap-around advertorial was certainly a wake-up call for other aspirants to brace up for the battle ahead, but political pundits are not moved by the show of opulence and extravagance, as the primaries are simply grassroots affair.
Shasore warned himself into the race when he launched his book, titled: Possessed, few months ago, where he told who cared to listen that he is a bonafide son of Lagos and the need to possess the land back from those trying to claim it and were not from Lagos, using the colonial experience to drive home his points.
Unconfirmed source had it that Fashola has promised to give the leadership of the Lagos APC N5 billion if they will support Sasore and ensure that he wins tomorrow's primaries. Tinubu is not happy with Fashola's move to dethrone him as the godfather of Lagos APC after he picked him from the 'gutter' and made him governor, only for him to turn his back to bite him.
Fashola's romance with Hamzat ended with his support for Sasore, who appears to be making all the waves at the moment, but fillers from the grassroots show that Ambode is still the candidate to beat in tomorrow's primary election as he has the support of 'Bourdillon.'
Despite the display of opulence by Shasore, Ambode has also displayed a stinker for spending as he spent multi-million to buy space in MTN N100 and N200 recharge cards. Ambode's picture and logo campaigning for his aspiration is seen by anyone who buys MTN N100 and N200 recharge cards. The aspirant is the name in people's mouth at the grassroots level anywhere you go to in Lagos as the power that be has shown the way to go.
To ensure that Ambode's ambition scaled through, Tinubu ensured that all former Chairmen of the 57 councils before they handed over power a month ago, contributed N26 million each to the campaign of Ambode. Most of the delegates at the grassroots have been told to swing the pendulum in favour of Ambode on Thursday.
Most of the people at the grassroots level are not loyal to Fashola, but Tinubu. Even some of those in his cabinet are die-hard-loyalist of the former governor and will do all things possible to please him, but Fashola believes that throwing the money around will turn the people's heart to his favour and to Sasore, who many people believe does not have the political will to make things happen.
Other contestants for tomorrow's primaries are Senator Ganiu Olanrewaju Solomo, popularly known as GOS, Dr. Kadri Hamzat, Adeyemi Ikuforiji, Dr. Leke Pitan, Dr. Tola Kasali, Abayomi Sutton, Tayo Ayinde, Lanre Ope, Adetokunbo Wahab and  Adetokunbo Tobun-Agbesanwa.
Also, contesting is, Ikuforiji, who is desperate to become governor of Lagos and thinks he has the chance to make a difference at Thursday's primaries. The speaker, with his motto: 'Atupa of Lagos,' has been spending lots of money for his campaign and is bragging that he will emerge as the party's flagbearer on Thursday.
Having served as Speaker for 10 years, he is no push over as he said he has the wherewithal to govern Lagos with his robust manifestation. But political pundits do not see Ikuforiji going all the way to spring surprises. What is strange is that 34 lawmakers in the Assembly where Ikuforiji is Speaker recently endorsed Ambode.
For Hamzat, he thinks he is the right man to govern Lagos. He scaled up his campaign by touring all councils in Lagos State to woo them to his side. He was first Fashola's candidate, but why the governor dumped him for Sasore is what people still could not understand. That would have given him a serious hedge. But Hamzat believes that with a free and fair contest at the primaries, he has the chance to upstage the big 'guns' and fly the banner of the party in next year's election. He has gained the support of many and political analyst said he could pull through by a miracle on Thursday.
As for GOS, he is a grassroots politician. He was the first aspirant to announce his intention to be governor of Lagos State and has set up his political office in Ikeja where he has been launching out to campaign for his aspiration. Having spent four years at the House of Representatives and eight years at the Senate, GOS thinks he needs a new challenge by becoming governor of Lagos State. Why many political analysts said he stands no chance, GOS should not be written off as his exploit at the grassroots, especially in Mushin stands him out.
For Kasali, his ambition has been punctured and he ostensibly stands no chance at all. His arrest and arraignment in court recently for alleged murder has dented his ambition. He cannot recover from this blow, as he may just be a fan at the governorship contest on Thursday. Many believe not even a miracle can pull him through.
By and Large, the Lagos state APC governorship primaries is a straight battle between Ambode and Shasore, and by extension a clash between Governor Fashola and his godfather, Asiwaju Ahmed Tinubu.
Please follow and like us:
Short URL: http://www.africanexaminer.com/?p=20190