Semenitari Resumes as new NDDC Boss, Promises To Actualise Buhari's Vision For Niger Delta
Featured, Latest News, News
Tuesday, December 22nd, 2015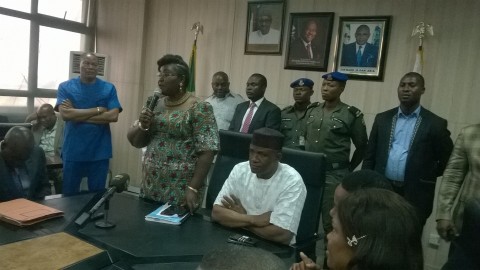 *As Rivers APC Hails Buhari Over Her Appointment
BALTIMORE, MD (AFRICAN EXAMINER) –  The acting Managing Director of the Niger Delta Development Commission, Mrs. Ibim Semenitari has said her priority is to actualize President Buhari's development vision  for the Niger Delta region.
She said this on Tuesday in Port Harcourt when the outgoing Managing Director, Bassey Dan-Abia handed over to her at the commission's headquarters.
Her words: "I have in-depth knowledge of what the commission ought to be doing in terms of development. I understand what our challenges are. It is now time for me to do my part.
"I have a responsibility to God and to President Muhammadu Buhari to ensure that his vision for the Niger Delta comes to pass. Because I am yet to get briefing from the directors. I cannot make a clear policy statement. But I will do what the President wants, which is the development of the region. We will hit the road running."
She also commended the out going MD, Dan-Abia for his efforts in the commission, adding that he has done well as the MD of the NDDC.
Rivers APC Commends President Buhari Over Semenitari's Appointment
Meanwhile, the leadership and entire members of the Rivers State Chapter of All Progressives Congress (APC) have commended President Muhammadu Buhari for appointing Mrs. Ibim Semenitari as the acting Managing Director of Niger Delta Development Commission (NDDC).
The APC in a statement signed by Mr Chris Finebone noted that the appointment by Mr. President further demonstrates his readiness to recognise and appoint qualified, tested and worthy sons and daughters of the South-South into positions of responsibility in his government.
"We have no iota of doubt that Mrs. Ibim Semenitari will match and even exceed the expectations on her new assignment by Mr. President, our party, people of the South-South and entire Nigerians because of her zeal, capability and capacity to deliver whenever she is called to serve." the party observed.
"This optimism is based on her verifiable track record of achievements in the past especially while she served as the Honourable Commissioner for Information and Communications in the Cabinet of the former Governor of Rivers State, Rt. Hon. Chibuike Rotimi Amaechi and as a member of the Communications Directorate of the Buhari Presidential Campaign Organisation." the party stated.

Short URL: http://www.africanexaminer.com/?p=28842