Saraki, Lawan Divide PDP As Senators-Elect Threaten to Draft Mark
Featured, Latest News, News
Monday, June 8th, 2015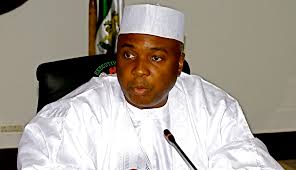 People's Democratic Party (PDP) senators-elect are now divided down the line over who among the duo of Senator Bukola Saraki and Senator Ahmad Lawan they will vote for as president of the 8th Senate.
The Senate which will be inaugurated today (Monday) is expected to produce an All Progressive Congress(APC) majority leadership, with Senator Lawan from Yobe State emerging the consensus choice of his party.
However, at a meeting held by the PDP caucus on Sunday night in Senator David Mark's residence in Abuja, the obviously divided senators including their state governors threatened to draft in Senator Mark to the race if the APC nominates two candidates on the floor.
Senator Saraki and his supporters it could be recalled have objected to the APC consensus option and insists that the election would be decided on the floor before the inauguration of senators on Tuesday.
Some senators said to be rooting for Saraki were said to have railroaded a suggestion of kick-starting a vibrant opposition on Tuesday by voting against the APC consensus choice as a signal of what to expect in the days ahead and also as a measure of keeping the PDP alive.
It was however, learnt that most of the senators disagreed vehemently with the suggestion and aver that doing so is merely to serve some body's interest rather that of the PDP as a party.
"The surprise of the night was that some of the governors that former President Jonathan laboured to install like Wike and Dickson are those at vanguard of the Saraki project, a man who practically destroyed PDP.
"Most senators at the meeting viewed the Saraki support as robbing Peter to pay Paul. The contenders that it will be bad to reward a man who too up arms against his party and moved to another after destroying it", said the source.
The source further informed that most of the senators fear that the governors are again trying to hijack the Senate as they did the PDP, which they contend destroyed it.
Recall that the APC National Working Committee (NWC) voted for Lawan/Akume as his senate president and deputy senate president candidate, a mock election that Bukola Saraki's group has since rejected.
Please follow and like us:
Short URL: http://www.africanexaminer.com/?p=23943