Saraki's Family Fall Apart Over 2015 Elections (News Analysis)
Featured, Latest News
Monday, March 24th, 2014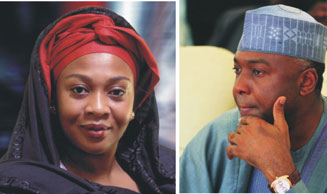 Oyewale Oyelola
The popular Saraki family of Ilorin is no longer at peace in less than two years after the death of head of the dynasty, late Dr Olusola Saraki who died in November 2012.
The two arrowhead of the family Senator Bukola Saraki and Senator Gbemisola Saraki are on warpath over the control of Kwara state political landscape.
The defection of immediate former governor of the state and Senator representing Kwara Central, Senator Bukola Saraki to All Progressives Congress (APC) from ruling Peoples Democratic Party (PDP)) with almost of the political office holders in the state harmony including incumbent governor Abdulfatai Ahmed had divided the family into two political camps.
The APC camp is headed by Senator Bukola Saraki while Senator Gbemisola Saraki who recently returned to PDP is in control of the PDP bloc.
Senator Gbemisola Saraki, younger sister of Senator Bukola Saraki led her siblings Laolu and Tope Saraki and other prominent opposition figure defunct ACN governorship candidate in 2011 election, Dele Belgore, Mr Lola Ashiru, an APC chieftain in Offa, Prince Sunday Fagbemi, son of Mohammed Lawal (Lawal ruled Kwara from 1999-2003 on the platform of APP which later transform to ANPP)  and Alhaji Abdulrahman Abdulrazaq, the governorship candidate of the CPC in the 2011 elections to decamped to Peoples Democratic Party (PDP) in Ilorin, Kwara State capital to counter her brother's opposition to President Goodluck Jonathan and his 2015 ambition.
Addressing the crowd, 'Gbemi' as she's fondly called, revisited the quarrel between her and her elder brother which she said was occasioned by his (Bukola's) disregard and disobedience to their late father, Dr Olusola Saraki.
According to her, her brother had approached their father to dump PDP long ago on the ground that he had problem with President Jonathan and the leadership of PDP at the time but which the late Kwara political icon turned down. She said she had come on a reawakening mission saying, "the Kwara that my father brought me up to know is not this one. The one he knew and brought me up to know is a state of diverse people who are very courageous and hardworking."
Late Senator Olusola Saraki popularly called Baba Oloye by his supporters without doubt was the Godfather of Kwara state politics. Since his successful venture into politics with his emergence as Senator in second republic and later rose to be Senate leader in 1983 under National Party of Nigeria (NPN) remain relevant in Kwara and national politics until his death in November 2012.
The Late Waziri of Ilorin was instrumental to the emergence of Abubukar Lawal as Kwara state governor under All Peoples Party (APP) in 1999. The second republic senator after he fall out with Lawal mobilized his supporters to Peoples Democratic Party (PDP) in build up to 2003 general elections.
He vowed to then President Olusegun Obasanjo during his political visit to state of harmony that he will deliver all elective position to PDP. He was quoted as saying that his movement to PDP marks the end of Kwara APP/ANPP with incumbent governor Lawal.
He ensured that his son Bukola Saraki who served as special Adviser to President Obasanjo emerged as PDP governorship candidate while his daughter Gbemisola Saraki was given PDP senatorial ticket to represent Kwara Central in 2003 general elections. Bukola defeated incumbent governor Lawal and ruled the state of harmony from 2003-2011 while Gbemisola also served two terms as senator of the Federal Republic.
However, the decision of elder Saraki to endorse her daughter Gbemisola for governorship election in 2011 was strongly rejected by then incumbent governor Bukola Saraki.  Sai Bukky as he is fondly called his followers explained to his father it would better to allow other senatorial zone in the state to produce governor in spirit of fairness and equity, warning that Kwara-a muslim populated state will support female governor. He noted that the decision will spell doom for political dynasty Baba Oloye built over the years.
The open rejection of Gbemisola's aspiration by Bukola the Turaki of Ilorin led to defection of Dr Olusola Saraki to Allied Congress Party of Nigeria (ACPN). The second republic senator described younger Saraki position as disservice to Saraki political dynasty, adding that it has brought repute to him personally as anybody can just decide to run for governorship with consulting him, while reminding Bukola that all Kwara state governors since 1979 emerged from his sitting room.
Consequently, AbdulFatai Ahmed, Commissioner for Finance during Bukola's tenure from Ifelodun Local government in Kwara South Senatorial district emerged as PDP governorship flagbearer, Mohammed Dele Belgore run on the platform of defunct Action Congress of Nigeria (ACN), Gbemisola Saraki   was the governorship flagbearer of ACPN while Alhaji Abdulrahman Abdulrazaq run as the governorship candidate of the CPC in 2011 election.
Expectedly, Abdulfatai Ahmed with the support of incumbent governor was declared winner of the governorship election with Dele Belgore coming second and Gbemisola was in distance third position according to result released by INEC. Younger Saraki who also delivered the three senatorial seats, six Federal House of Representative seats and 23 out 24 house of assembly members to PDP quickly reconciled with his father, adding that PDP success in the poll was result for his father's legacy and good works. He reiterated that the victory is for Saraki's Dynasty and urged his father to support governor Ahmed.
Senator Bukola Saraki took over the leadership of  Saraki political dynasty as confirmed by Governor Abdulfatai Ahmed who told APC leaders during their consultation visit prior to his declaration for APC, stated that its only Bukola Saraki that will determine political party to follow in Kwara state.
Saraki also confirmed the assertion recently during his chat with journalists after his registration as APC member at Abgaji, Ajikobi ward of Ilorin West local government area of the state, where he described his official registration in the APC as the beginning of a journey to bring about transformation that will take the state to the promised land.
Saraki said the journey of transformation started when they left APP for PDP and now moving to APC, asserting that what became of the then APP in the state will surely happen to the Party they left for APC. Meanwhile, the speaker of Kwara state, House of Assembly and 20 members, six members of House of Representative, 16 local government chairmen have already decamped to APC, while Saraki is leading other 10 PDP senator to perfect their defection to APC.
Feelers from the presidency shows would do everything possible to weaken Bukola Saraki led APC and ensure PDP reclaim the state in 2015 general elections.
President Goodluck Jonathan in his address at PDP unity rally in Ilorin recently stated that Kwara is PDP state, nobody can take away the mandate through the back door.
In his effort to mobilise support for his 2015 ambition, President Goodluck Jonathan reappointed Professor Wahab Oba as Chairman, Federal Character Commission and Senator Suleiman M. Ajadi has been appointed Special Adviser (National Assembly Matters) to President Goodluck Jonathan and dropped Bolaji Abdulahi, former Minister of sports due to his loyality to Bukola Saraki.
African Examiner gathered that President Jonathan might appoint Gbemisola as Minister before May this year and later support her to confront his brother in Kwara Central Senatorial election in 2015.
Please follow and like us:
Short URL: http://www.africanexaminer.com/?p=9441