War Against Corruption: Buhari Is Not After Anybody – Mohammed
Featured, Latest News, News
Thursday, February 25th, 2016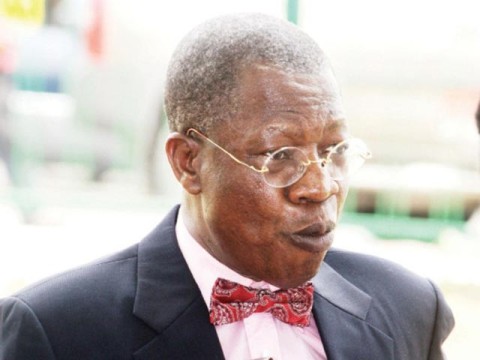 By Ayo Balogun
Minister of Information, Alhaji Lai Muhammed has re-emphasised that the administration of President Muhammadu Buhari is not witch-hunting anybody in the fight against corruption as being insinuated in some quarters.
Mohammed also berated Nigerians for not showing enough anger against corruption by speaking up and not being critical of looters of the nation's money.
Speaking with newsmen after paying a courtesy call on Lagos State Governor, Akinwunmi Ambode at the State House, Ikeja, Lagos, the Minister said what the administration was trying to do was to make Nigerians understand that corruption is eating deep, not just into the fabrics of our morals, but it is preventing development.
"It is the reason 40% of our children will live up to five years. We lose 40% of our infants before they are five years old. It is because of corruption. It is because of corruption we are in darkness all the time. It is because of corruption we needlessly lose lives to road accidents today.
"This is the emphasis of our government. We are not witch-hunting any person. We are not out to vilify any person. What bothers us is that Nigerians are not angry enough. Last Sunday, it was reported that N381 million was recovered from the account of the wife of a former Service Chief.
"It is surprising that Nigerians have shown no anger about it. In other climes, you will see people talking about it or doing something about it. We must understand that until we kill corruption, we are not going to make any edge ways. The budget was distorted. We, as the Federal Executive Council, did not pad any budget," he said.
According to Mohammed, the emphasis of the Federal Government was not just to talk about figure of how much had been embezzled as the figures released were dizzy enough, adding that "only two days ago, ADC to former President Goodluck Jonathan said when they brought N10 billion for the PDP campaign, he did not open it. He said he only gave it to the Special Adviser on Domestic Affairs. This is quite troubling.
"But more importantly, our government want Nigerians to know the cost of corruption. The government wants Nigerians to know what we are suffering. When we had a news conference in January and disclosed that 55 people stole, N1.343 trillion between 2006 and 2013, what we wanted to emphasize was what one-third of the money would have done to Nigeria.
Using the World Bank rate, we said the money would be able to redevelop Lagos-Ibadan expressway. It will be able to give us one ultra-modern hospital in each state of the federation. In addition, that money would have given 20,000 units of two-bedroom flat. The remaining will still sponsor 3,954 students from primary schools to tertiary level. In addition, it will build 183 state-of-the-art schools,' he explained.
Earlier, Governor Ambode vowed to transform the National Museum in Lagos to a modern-day cultural edifice which would be of international standard, just as he pledged to partner with the Federal Government to give face lift to Federal infrastructures in the state.
He said he would collaborate with the Federal Government to ensure the speedy completion of the project which he said will enhance the cultural heritage of Nigeria.
Ambode said considering the strategic importance of culture and tourism to the identity of people, there was no better time for Lagos and the Federal Government to collaborate in driving the essence of culture with the view to improving on the situation on ground and thereby improve on the economy and develop the nation.
The Governor said Onikan, where the museum is located, is a melting port of the cultural heritage of Lagos and Nigeria by extension; hence, serious efforts must be put in place to start to recreate the monument to adequately situate the history of the country.
"Just the same way we have collaborated with the police, we will collaborate with you and ensure that whatever we can do to create a facelift to the infrastructure of the Federal Government in Lagos, we will do it because it will eventually be to the benefit of Lagosians and eventually aid the economic growth of Lagos.
"Talking precisely about the National Museum at Onikan, we will go straight with the commissioners here to see how we can put up a modern-day museum of international standard and see how that can work towards our Lagos@50 Celebration next year.
"We are not only doing it for Nigeria, but also for the future of our cultural heritage. We believe strongly that the axis around Onikan and Marina is actually the melting port of our cultural heritage and we must start to recreate the monument in that area to be able to say a whole lot about the history of Lagos and more importantly, a whole lot about the history of Nigeria and so we would see how we can run as fast as possible on that," he said.
The Governor, who lamented that some Nigerian languages were gradually going into extinction due to lack of preservation of cultural values, said that with the renewed commitment of the federal and state governments, issues of youth unemployment could be adequately addressed using culture, tourism, arts, sports and entertainment.
"That is why we are committed to the Employment Trust Fund. We are just about to inaugurate it and every year for the next four years, we will be putting N6.25 billion, totalling N25 billion. Using that fund, we will be creating arts and recording studios and business incubators because we don't longer want our artistes to be recording their works outside Nigeria. We can do it and that is where we are going. That will create a lot of energy among our younger ones and before you know it, they are on track and we too are on track as a very viable economy," he explained.
Please follow and like us:
Short URL: http://www.africanexaminer.com/?p=30506