2019: Ebonyi People Want Tambuwal's Type of President, Says Governor Umahi 
Featured, Latest News, News Across Nigeria, News From The State
Friday, September 14th, 2018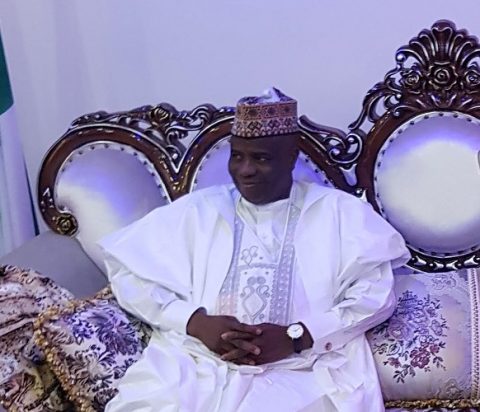 (AFRICAN EXAMINER) – The people of Ebonyi state are desirous to see someone like Sokoto state governor Aminu Tambuwal become Nigeria's president in 2019.
Ebonyi state governor, David Umahi, stated this in Abakaliki on Friday while receiving Governor Tambuwal, who visited the state to kick off his campaign to become the flag bearer of the Peoples Democratic Party (PDP) at the 2019 election.
Speaking during the visit, Tambuwal told Governor Umahi, who was represented by the Deputy Governor of the state, Dr. Eric Kelechi Igwe, that Ebonyi was the first state he was visiting in the course of his presidential campaign.
He told Igwe that he was visiting the state on a mission to rescue Nigeria from the absence of rule of law, incompetence, hardship and insecurity.
He said he joined the presidential race on PDP platform to give Nigerians another choice at next year's election.
The PDP presidential aspirant said Nigeria has no reason to be as poor as it is today. He said all the country needs is a leadership that has the capacity to harness our abundant natural resources and human capacity irrespective of ethnicity, religion or tribe.
Governor Tambuwal said the unity of Nigeria stands threatened today and that the country has never had it so bad.
"We need a leadership that can rescue Nigeria from the present drift — a leadership that has a clear understanding and knowledge of Nigeria's history and how to tackle the challenges confronting the nation.
"We need leadership that is accessible and in tune with modern governance.
"We must think out of the box and work almost 24 hours to bring Nigeria out of her present condition," Tambuwal said.
He decried the fact that Nigeria has become a laughing stock within the international community and appealed to delegates to the forthcoming national convention of the PDP in Port Harcourt to think and reflect deeply on the nation's current situation and ensure that the right leader for this moment emerges as presidential flag bearer of the party.
"I promise you that if Given the ticket of our party and leadership of this nation, we shall run a transparent and all-inclusive government where all Nigerians will feel a sense of belonging and feel free wherever they find themselves.
"We shall run a govt  that provides security to all Nigerians irrespective of religion or ethnicity," Tambuwal added.
Responding, Dr. Igwe said it was an honour to the government and people of Ebonyi state that Governor Tambuwal chose Ebonyi state as the place to kick off his campaign to become PDP's flag bearer.
He regretted that Governor Umahi was not physically present to receive Governor Tambuwal, adding that the Ebonyi governor holds the aspirant in high esteem for his competent handling of the Speakership of the House of Representatives while he held that office.
Igwe extolled the virtues of Tambuwal as a democrat, saying that he is eminently qualified to be president of Nigeria.
He added that anyone who can govern Sokoto and bring stability to the state can rule Nigeria, Sokoto being one of Nigeria's most important states.
"We feel honoured that Tambuwal chose to kick-start his campaign from the South East and Ebonyi state in particular.
"Gov UMAHI asked me to tell you how he wished he had been physically present during this visit so as to pour out his heart to Tambuwal over the way and manner he steered the affairs of the House of Representatives as Speaker.
"Tambuwal's democratic credentials are not in doubt. Your records of leadership in the House of Reps are there for all to see.
"I believe that if there's anyone eminently qualified to be president of Nigeria, Tambuwal will be one of the five persons to consider. As leader of the legislature and state chief executive, Tambuwal can bring his
experience to bear in handling the intricate challenges of governance and leadership.
"Sokoto is one of the most important states in Nigeria and anyone who can  govern Sokoto and bring stability to that state can effectively rule Nigeria.
"Ebonyi state people are only looking for that man who will come from Sokoto or Kano or Taraba and look at Ebonyi as one of the states in Nigeria and not just one of the new states in the country.
On a personal note, the deputy governor. Advised Tambuwal to "make out time and discuss with Governor UMAHI and he will get back to us and tell us what to do as delegates."
Short URL: https://www.africanexaminer.com/?p=45874