60 Customers Smile Home With Assorted Prices In Enugu 1st Bank Promo
Brands and Marketing
Saturday, March 8th, 2014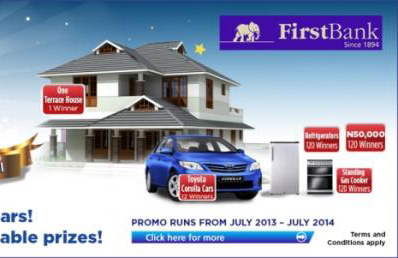 IGNATIUS OKPARA, Enugu
A total of 360 (three hundred and sixty) customers of first bank Nigerian Plc Friday won various prices in the banks Big Splash Promo of 4th Bi-Monthly Raffle Draw held in Enugu on Thursday match 6, 2014.
A breakdown of the winning record, indicates that out of the 360, One hundred and twenty customers smile home with N50,000 cash each, 120 won gas cooker while the rest 120 went home with Refrigerators.
In her remarks on relevance of the draw, Mrs. Adebimpe Ihekuna who represented Head Consumer Banking department explained that it is the 5th edition of the Banks savings Promo campaign for the past 6 years.
She stated that the major reason for the promo was to reward the bank's long standing customers so that it will not be an issue of save money or deposit money alone but a way to reward long standing loyal customers and to improve the peoples standard of living.
Mrs Ihekuna revealed that within the period of the campaigns the bank has given out brand new cars, cash award, Refrigerators, Gas cookers and all sorts of equipment that can be used to start a business or support any running business.
"For this particular edition we have given away brand new 6 Toyota cars, and over 750 customers got N50,000  cash award each" She added
According to her, the bank also partnered with world-class consultants KPMG to ensure it is in line with world best practice, adding that "this draw is fully automated and it would randomly select the winners who would take home our various prizes."
African Examiner gathered that to qualify for the First Bank Big Splash promo, First Bank customers need to operate a savings account with N10, 000.00 monthly balance and the balance should be maintained for a minimum of 30 days to qualify for the bi-monthly draw.
For the quarterly and grand finale draws, account holders need to maintain incremental balances of N20, 000.00 every month for three consecutive months to qualify for the semi-annual draw or maintain a balance of N60, 000.00 steadily over the quarter to qualify for the semi-annual draw.
Increasing one's savings account with the sum of N20, 000.00 every month for 10 consecutive months or a bullet minimum deposit of N200, 000.00 unbroken will qualify the account holder for the Grand Finale draw.
Austin Agbahiwe, the Owerri branch Deputy Manager (BDM), said first bank is not only rewarding customers alone but is marking its 120 years of existence in Nigeria and would be pleased to reward her customers in a special way.
He said "this special edition of our promo campaign promises an experience of a life-time for our numerous customers across the globe, our bank will give away a completed 4-bedroom terrace house worth 50 million, located in the high brow area of Lekki to a customer just for saving N200,000 for ten months" during the grand finally.
Meanwhile, the event witnessed the formal handing over a brand new Toyota car at the Ibadan raffle draw, to the winner, Mrs. Ufo Obigali, a head teacher from Udoka primary school Eziowerri, Anambra state.
Her words: "I was not aware, when I was told that I won a car I said to the people that it was 419, because I never believed such can happen, I thank God very very much and the organisers of this programme."
Short URL: https://www.africanexaminer.com/?p=8942