African Officials End China Training
Latest News, News
Friday, May 30th, 2014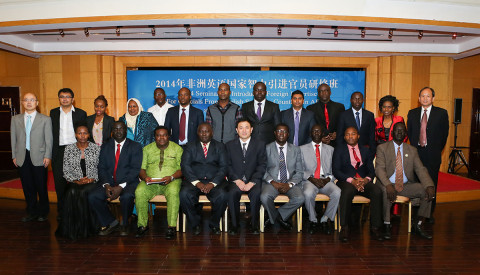 By Austin Uganwa, Beijing, China
China has concluded a 3-week training programme it organized for top public officers from ten English speaking African nations with a pledge to deepen its commitment towards facilitating Africa's economic development.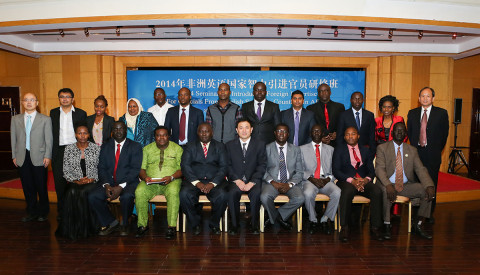 No fewer than 18 top government officials participated in the training that took place in Beijing and Hangzhou cities of China, which commenced second week in May.The African countries that took part included; Nigeria; Ghana; Zimbabwe; Kenya and Liberia. Others were; Malawi; Tanzania; Uganda and Mauritius. Dr Austin Uganwa, Special Assistant to Deputy Speaker, House of Representatives on Media and Public Affairs is one of Nigeria's representatives.
The training sponsored by China's Ministry of Commerce and organized by its Ministry of Foreign Affairs was aimed at instilling in the African officials the mechanisms and models that facilitated China's development options.
The training which attracted a cream of Chinese instructors and academics came in two phases namely, extensive lecture and field work. The field work took the participants to some major companies in Beijing and Hangzhou to enable them to have practical knowledge of technological advancement of these establishments and to interface with the chief executive officers of the companies
Some of the companies visited included; Geely  Holding Group,  auto manufacturers; Yatch company;  BOE Technology  Group that focuses on producing semiconductor display technologies, products and services; Wanxiang Group that produces motor-electric control battery, auto parts, among others  imbued with  high-tech research.
According to Lu Ming, deputy head China's Ministry of Foreign Affairs who spoke on behalf of the host nation, the seminar has provided an important platform to strengthen the personnel and intellectual resources exchange between China and other developing countries, to expand cooperation and to consolidate long-term friendship.
He notes: "holding seminar of this nature is a very effective way to expand exchange of human capital and intellectual resources among developing countries and to promote the introduction of foreign expertise in developing countries".
He stated that economic globalization accelerated the internationalization of human resources given that human resources have become the decisive factor towards enhancing the comprehensive national strength and international competitiveness as well as promoting economic and social development.
Ling adds:"through constantly learning from each other and exchanging activities, we tend to deepen the laws of transnational flow of human resources under the background of economic globalization, to take more positive and strong initiatives to absorb and learn from developed nations and to speed up our own development".
Dr Austin Uganwa from Nigeria who made a speech on behalf of the 18 participants from 10 African nations expressed profound appreciation to the People's Republic of China for the training   with a note that the programme had offered the participants an opportunity to access China's development secret and the immeasurable positive impact China's policy of opening to the World has had on its economy.
He notes: "we have learnt desirable lessons from China; we are leaving more knowledgeable about development options and would return to Africa to make preferred impact".
Observing that Africa and China have enjoyed excellent bilateral relationship, he stated that the training would further reinforce the good relationship existing between the continent and the Asian nation.
Short URL: https://www.africanexaminer.com/?p=11966