Amaechi Promises To Protect Rivers, South-South Interest
Featured, Latest News, News From The State
Tuesday, May 26th, 2015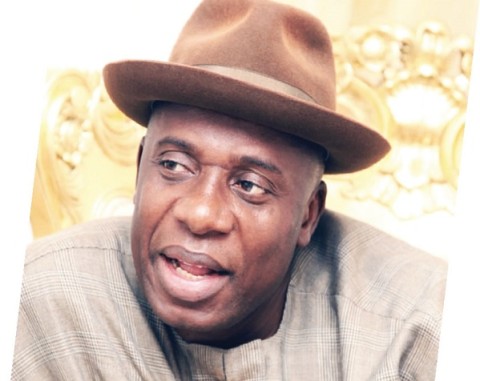 *Says Buhari will resist impunity in Rivers
Rivers State Governor, Rt. Hon. Chibuike Rotimi Amaechi has promised Rivers people and the South-South that he will join hands with the President-Elect, Muhammadu Buhari to improve their living standard and promote development.
Amaechi also assured the people that the Buhari led administration will resist impunity and abuse of power by the Peoples Democratic Party in Rivers state.
The governor spoke Monday during separate swearing-in-ceremonies of newly elected council chairmen in 22 Local Government Areas of the state and four new Permanent Secretaries at Government House, Port Harcourt.
He said, the purported plan by the PDP in Rivers State to dissolve the elected LGA Councils will be viewed as an act of impunity against Rivers people, as the council electoral process was conducted according to law and acceptable in a democracy.
"What we have done here today (swearing-in of Council Chairmen) is according to law. I hear, PDP is threatening to dissolve the council elections. Whether they can dissolve or not, any abuse of power which happened in the past, will not happen again. They can threaten as much as they want. Mrs. Jonathan often summon meetings and discuss with the Force Commanders in her house. I tell you, those days are gone for good. From May 29th, 2015, any of them that make you suffer wrong will see the reaction of the Federal Government. Because, we can't be paying people from our tax payers money and see them using the same money to fight our people. All those who committed one crime or the other, will not go unpunished.
"The government led by Muhammadu Buhari will not allow impunity. I know, I don't have the right to speak on his behalf. But, as Rivers State Governor and Director-General of his campaign organization, I have worked closely with Buhari, he will not allow impunity. He will ensure rule of law. The dissolution of the councils will be regarded and treated as impunity. He will not allow illegality," Amaechi said.
On the report of the commission of inquiry into politically motivated killings in Rivers State, Amaechi stated that defaulters would be punished.
"The report by the commission of inquiry is before the State Executive Council and I am sure between now and Wednesday, we will consider the report and further issue a white paper. All those found culpable under the law, will be made to face the music.
"You may ask yourself why PDP did not attend the commission of Inquiry. What is their fear? If APC says, it will examine the death of victims during the electoral violence in Rivers State, is it wrong? You can't take people's lives and want to go free. From my experience, this is the first time, I see the Federal Government supporting the killing of innocent citizens. This is the darkest part of our history. The civil war experience for Rivers people was not even as bad as the 2015 electoral violence. In fact, the Federal Government which our people will run to ask for intervention were the same people supporting the killing of our people, and God paid them back by installing a more peaceful government", Amaechi said.
The governor also pledged to ensure an end to the politicization and diversion of Rivers oil wells to neighboring states by politicians and mischief makers, which he said, was responsible for the slow pace of development in the state.
He said, "It was in 2012 Rivers people began to suffer in the hands of President Jonathan. They took our oil wells, directed some to Abia and Akwa Ibom states. But, we must thank God Almighty that we have a stake at the federal level. I am sure, the interest of Rivers people and the South-South will be protected by the incoming Federal Government on May 29."
Amaechi frowned at the move by the PDP transition committee of trying to control the coffers of the state without his consent while in office. He warned the Tele Ikuru committee to respect the rule of law.
"I can't understand the position of the PDP transition committee writing to Banks to control the coffers of the state without my consent. I am still Governor till May 29th. The Tele Ikuru led committee have no powers till May 29th, 2015 when I vacate my seat as Governor", He explained.
Amaechi charged the new permanent Secretaries to remain loyal to the service of the state and ensure effective service delivery.
They are, Stella Wigwe, Osumeabo Dagere, Oruge Christian O. and Ngozi Abu.
The 22 Council Chairmen sworn-in are, Chimbiko I. Akarolo, Port Harcourt LGA, Hon. Augustine Paul Ngo, Abua/Odual LGA, Hon. Akpobari Celestine, Khana LGA, Comrade Donatus Badom, Gokana LGA, Samuel Eyiba, Ahoada West LGA, Imie Benson A., Andoni LGA, Fineman Olungwe, Eleme LGA, Abbey Omuso, Bonny LGA, Suleman Atago, Ahaoda East LGA and Elechi Acho Felix, Oyigbo LGA.
Others include, Barr. Reginald Ukwuoma, Etche LGA, Fred-Horsfall, F. V., Asari Toru LGA, Nathaniel Iringeri, Ogu/Bolo LGA, Chidi Olue, Omuma LGA, Benibo Stanley, Akuku Toru LGA, Opi, Nengiaomie Samuel, Okrika LGA, Lucky U. Worluh, Emohua LGA, Hon. Felicia N. Barizasi-Tae JP, Tai LGA, Barr. Sogbeye C. Eli, Degema LGA, Loveday M. Jaja, Opobo LGA, Nnanta Gabriel Weh, Obio/Akpor LGA and Hon. Bestman Amadi, Ikwerre LGA.
PRESS UNIT, GOVERNMENT HOUSE
PORT HARCOURT
Short URL: https://www.africanexaminer.com/?p=23719