APC: Atiku Registers In Jada, Urges Supporters To Follow Suit
Featured, Latest News, Politics
Wednesday, February 5th, 2014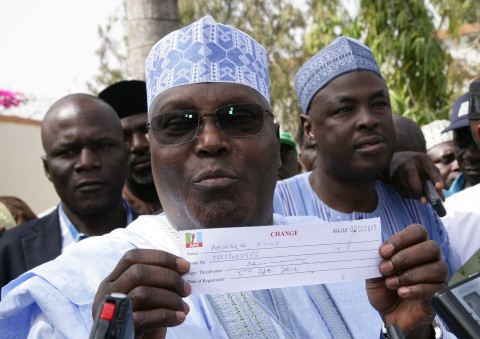 Kayode Adelowokan, Lagos
Former Vice President, Alhaji Atiku Abubakar, on Wednesday made good his movement to the All Progressive Congress (APC) by registering his membership in Jada, Adamawa State.
The former Vice President arrived at the registration centre at 2.12pm and was handed a form by the zonal chairman, which he filled out along with an attached passport photograph.
At the end, the state interim chairman handed him a detached slip from the form with No. 02000841, which will serve as a temporary membership card until he is issued with laminated permanent membership card.
Speaking after the registration, the Turaki Adamawa charged his supporters nationwide to avail themselves of the opportunity by registering as members of the APC so that together they can bring about the desired change.
"To make good on the change that you are earnestly yearning for, I urge all my supporters no matter where you may be to follow in my footsteps and register as a member of APC," Atiku said.
Earlier Atiku had paid courtesy call on Emir of Ganye, Dr. Umar Sanda who prayed and wished him well in his enterprise.
Thousands of people had lined the routes to Jada from Yola chanting A-P-C in solidarity with Atiku, who is the Sarduana of Ganye.
Short URL: https://www.africanexaminer.com/?p=8004