At 56, Hosa dances to the rhythm of his soul
Articles/Opinion, Personality Profile
Saturday, January 11th, 2014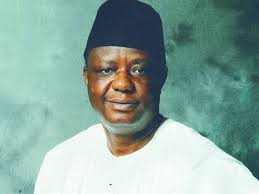 By Sufuyan Ojeifo
Business mogul, Captain Idahosa Wells Okunbo (popularly referred to as Captain Hosa by friends) turned 56 on January 7, this year.  In the spirit of celebrating the man and his anniversary, well wishers, family members, business and political associates showered him with goodwill messages.
All of them attested to his God-fearing and man-caring nature as well as his reliability in good deeds, business and politics. Reference was also made, in particular, to his philanthropy.
In spite of his great accomplishments, this man of means has remained consistently self-effacing and the disposition has informed his decision to evade media attention.  Yet he keeps recording great achievements that cannot escape the focus of the media.
With vast business interests, mega bucks, heavyweight and influential connections, et al, which would make many a man become conceited, Captain Hosa has incredibly remained steadfastly humble, choosing only to dance to the rhythm of his soul in appreciation to God for His exceeding grace.
He has chosen to don the garb of minimalism, which is a product of his humble upbringing, made possible by the discipline of a clergy father, teacher and community leader, the late Reverend Robert Amos Okunbo.
It is the humility, together with other salient qualities of this cosmopolitan businessman and perceptive politician that I pay shimmering tribute.
In spite of his accomplishments, he still has his eyes on the ball of expanding his business empire and has not rested on his oars.  He is one of the owners of Integrated Energy Distribution and Marketing Company that won the bids for the Ibadan and Yola Power Distribution Companies (Discos).
A retired commercial pilot, he proceeded to the Nigerian Civil Aviation Training Centre (NCATC), Zaria, after passing his secondary school certificate examination in flying colours, where he graduated as a professional Commercial Pilot in 1979 at the age of 21.
He attended ACME School of Aeronautics, Fort Worth Texas in 1983 where he obtained his Airline Transport Pilot Licence and was made a Captain in the same year at the age of 25.  He, in fact, started his professional career as a co-pilot with Aero Contractors Limited, which sponsored him to NCATC.
He flew as Captain with the Intercontinental Airlines and, in 1985, joined the services of Okada Airlines from where he retired in 1988 at the age of 30, having logged over 7,000 hours in flying time most of which were jet time.
He established Hoslyn Ventures Nigeria Limited, a procurement company in the Oil and Gas sector.  He is, today, chairman of Ocean Marine Security Limited, an offshore asset protection company servicing major oil companies in Nigeria, including the Nigeria National Petroleum Corporation (NNPC); and PPP Fluid Mechanics Limited, a crude oil logistics company.
He is a major shareholder in Westminster Group Plc, United Kingdom, and chairman of Westminster Security Solutions Limited, a franchise of Westminster Group Plc UK.  He chairs Wells Dredging Limited, involved in dredging, sand filling and shore protection in the Niger Delta region, as well as Wells Habitat Limited, a company partnering the Abuja Environmental Protection Agency in the area of waste management.
Hoslyn Habitat Limited, a foremost Design, Construction and Landscaping company, and Wells Property Development Company Limited, involved in the development of affordable properties for low-income earners, high net-worth individuals and office development are both under his chairmanship.
He is Director in Global Scan Systems Limited, a company responsible for the destination inspection of cargoes at the ports; Phil Nugent Nigeria Limited, involved in gas processing; and, Oil Offshore Combination, among many other viable companies operating in Nigeria and abroad.
For his outstanding social-economic and political contributions, he has been variously honoured within and outside Nigeria.  Significantly, in 2012, the American Congress honoured him with the "African Titan" Award for being a voice of the Niger Delta people through his sponsored movie: "Black November."  Captain Hosa is, no doubt, a happy man.  Happy birthday, Captain!
Mr. Ojeifo, a journalist, sent this tribute from Abuja.
Short URL: https://www.africanexaminer.com/?p=7106