Bayelsa Poll: 2 Critically Injured As APC Thugs Launch Attack on PDP Supporters
Latest News, News, Politics
Monday, November 23rd, 2015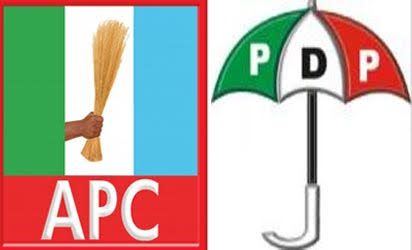 The All Progressives Congress, (APC) on Sunday unleashed terror on some members of the Peoples Democratic Party, (PDP) at Agudama-Ekpetiama in Yenagoa local government area, leaving two of its members critically injured.
Condemning the attack in a statement made available to newsmen in Yenagoa last night, the Director of Publicity, Restoration Campaign Organization Hon. Jonathan Obuebite described the attack as barbaric, most unacceptable and says, it is one attack too many
Obuebite in a signed statement said that the APC thugs led by one Weri Digifa, a well known thug in the area loyal to the former deputy governor, Werinipre Seibarugu, mobilized his thugs under the cover of darkness supported by three armed soldiers who acted as his bodyguards, as they pounced on the defenseless members of the PDP, shortly after the campaign team of the governor left the community at the weekend.
The notorious APC thug, Weri Digifa, acting on the instruction of his god father, the former deputy governor, who was obviously irked by the defection of over 2000 of its members to the PDP, swiftly moved in a commando like manner and heavily descended on the PDP members who ran for their dear lives through the swampy bushes. Two of them were not so lucky as they were beaten to pulp.
The injured members, whose condition are said to be critical, are at the moment receiving treatment at an undisclosed hospital.
Beyond inflicting severe bodily injuries on their victims, the APC thugs also went on rampage in the community destroying properties belonging to PDP members. The properties were said to be worth millions of naira.
Describing the development as grossly barbaric and highly condemnable, Obuebite said the attacks lent credence to its earlier position that the APC as a party is not ready for election in the state, rather its plan is to plunge the State to another round of crisis that will compel the federal government to declare a state of emergency, which in their jaundiced view, will result in the removal of the governor.
Obuebite, therefore, stressed the need for the security operatives to beam its searchlight on the chieftains of the APC and their activities in the state.
Short URL: https://www.africanexaminer.com/?p=27818