CONFAB: Nigeria Pensioners Plan National Wide Protest Over Non-Inclusion Of Members
Featured, Latest News, National Conference 2014
Monday, March 31st, 2014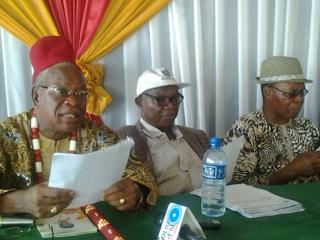 Ignatius Okpara, Enugu
The Nigeria Union of Pensioners (NUP), has expressed disappointment with president Goodluck Jonathan, for not including their members in the ongoing National conference in Abuja, the nation's capital.
Besides, the body, made up of mostly octogenarians, threatened that if all entreaties being employed by them to actualize their demands fail, they may mobilize the Nigeria Labour Congress, NLC, for partnership in a nationwide protest.
African Examiner, reports that the Pensioners threat of protest is due frustrations in achieving the group's 15-point demand for their welfare which include none representation at the on-going national conference.
Others include, non implementation of five percent counterpart funding by federal and state governments, none prosecution of Pension Fund managers, among other demands.
Addressing a press conference on Monday in Enugu onbehalf of its National president, Dr. Abel Afolayan, National Vice President of NUP in-charge of South East zone, Chief Emeka Onwumere, stated that they are in a mission for salvation and wondered who would wipe their tears.
The NUP south east helmsman, noted that pensioners in the South east have similar problems of neglect with all pensioners nationwide such as non implementation of progressive increase in pension anytime salaries of civil servants are reviewed.
The group frowned that pensioners in Enugu state have not been paid their gratuity except for those in 2009.
They named Enugu state parastatals that are being owed over 27 months pension to include retirees from the state water board, Enugu State Broadcasting Service, Primary School Teachers among others.
Hear him, "We are asking for harmonization of pensions for of those that retired in 1989 and their peers like 2010 because their is great disparity between them," they noted.
In the case of Imo state, the pensioners from the state threatened to embark on street protests if the retired Primary school teachers fail to receive their own share of national share of pensions. "We've made concerted efforts but it has not materialized," they said.
Other demands of NUP include outstanding arrears of Pension and gratuity due to pure federal pensioners, out standing 33 percent pension increase and its arrears which they said has been paid to military pensioners.
The body is equally demanding for challant attitude towards pensioners welfare by states,  stress free verification of pensioners, deduction of check-off dues for NUP and abolition of short payment and non-payment of gratuity and pension arrears due to deceased pensioners.
They however, appealed to those in positions of authority (Governments) to start treating pensioner with respect and not like slaves.
Short URL: https://www.africanexaminer.com/?p=9701