Dickson Inaugurates Petroleum Task Force, Wants Arbitrary Prices, Quality of Products Checked
Featured, Latest News, News From The State
Thursday, March 17th, 2016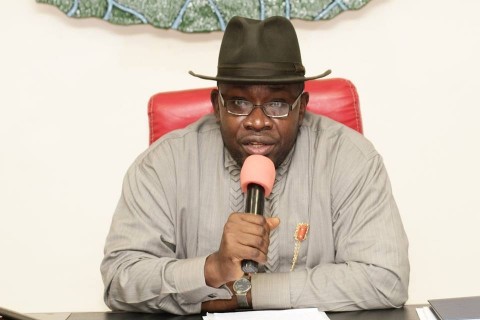 BALTIMORE, MD (AFRICAN EXAMINER) – The Bayelsa State Government on Thursday inaugurated a 9-member Petroleum Task Force, with the mandate to monitor the activities of petroleum marketers, in line with best practices.
Governor Seriake Dickson, who gave the charge to members of the task force in Yenagoa, said they were also saddled with the responsibility of putting an end to the issue of diversion of petroleum products allocated to Bayelsa, as well as ensure that such products were of the right quality.
The Governor, who expressed concern that prices of petroleum products in the State were the highest in the South-South region, called on the task force to undertake periodic inspection of all filling stations in the state, with a view to ensuring that they dispense products according to the regulated pump price.
His words: "From the reports I have been receiving, the price of petroleum products in this state is about the highest in the South-South region. And to me, there is no reason for that because petroleum products are regulated.
"This task force, therefore, has my mandate to go round the filling stations. I will tell the security to second some officers to you; so you should make sure that, petroleum products of all kinds sold in this state are of the right prices and quality, because I hear, they sell a lot of adulterated fuel that causes a lot of problems for all of us, who are using generators and vehicles."
According to him, effective monitoring of the activities of petroleum marketers will go a long way in checking the distribution of adulterated products and other sharp practices, aimed at short changing the people.
To enable the task force take off, Governor Dickson directed the Secretary to the State Government, Chief Serena Dokubo-Spiff to convene a meeting between the marketers, NNPC team and the monitoring group to discuss issues surrounding the distribution of the products.
The chairman of the Petroleum task force is Mr. Okosikeme Emmanuel, while More-Money Azikiwe, Alamco Wariebi, Pere Akpolo and Ebiye Suoteigha are to serve as members.
Others are Mr. Mitin Living, Emmanuel Enock, Baratuapre Daniel and Ebidiseghabofa Exodus.
Daniel Iworiso-Markson, Chief Press Secretary to the Governor of Bayelsa State
Short URL: https://www.africanexaminer.com/?p=31015