OPINION: X-raying Ex-Governor Ugwuanyi's Achievements In Eight Years: Unfair Criticism
Latest News, News Across Nigeria
Tuesday, June 13th, 2023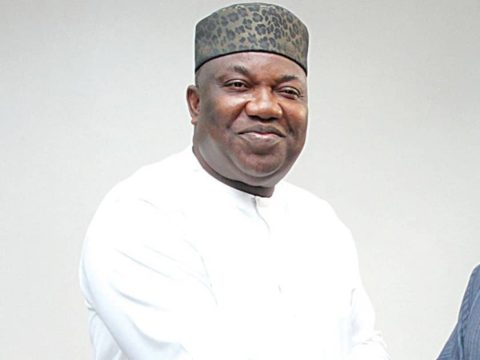 (AFRICAN EXAMINER) – Enugu  State which pride itself as the 'Coal City' state' was created on August 27, 1991 out of the then  Anambra State (from what was formerly known as Anambra North) by the regime of Ex- Nigeria's  military president, General Ibrahim  Badamosi Babangida, fondly known as IBB. It has its  capital in Enugu.
 The name of the State derives from its capital city, Enugu. Means  "the top of the hill".
It is situated in inland south eastern Nigeria, and  covers 7,161 square kilometres. It shares boundaries with Anambra on the West,  Kogi on the North, while Benue and Ebonyi on the East, and Imo State on the south. Enugu and Nsukka are its major towns. the city  was the headquarters of the former East Central State and Eastern Nigeria.
The state which is situated on the highlands of the Agwu, Udi,  and Nsukka Hills to the east as well as Oji-River basin to the west, currently has 17 local government areas and is still developing.
 It  has had four democratically elected  Executive governors since  inception of the ongoing nascnet Democratic experience in the country in 1999.
 They includes, Senator (Dr) Chimaroke  Ogbonnaya Nnamani, from Enugu East Senatorial district, who governed between 1999-2007 and handed over to Barrister Sullivan Iheanacho Chime, from Enugu West zone, who piloted affairs of the state from 2007- 2015, and handed over to Dr. Lawrence Ifeanyi Ugwuanyi, the immediate past governor of the state, from Enugu North who took charge between 2015 to May 29, 2023, and bowed out from office after presenting   the leadership baton to the incumbent governor, Dr. Peter Ndubusi Mbah, from Enugu East Senatorial district now occupant of the lion building.
 One peculiar thing about Enugu state is that it has remained a strong hold of the  opposition People's Democratic party PDP hence, all the above mentioned governors since 1999 till 2023 emerge through the party's plartform.
 In terms of development,  Although, ex governors Nnamani and Chime did exceedingly well in terms of provision of infrastructure and other social amenities aimed at improving the lives of the citizenry, suffice it to say that most of their projects were concentrated in the state capital, Enugu to the detriment of the rural Communities where such interventions are more needed.
 Nnamani and Chime were  so lucky during their era as they enjoyed swollen coffers  occasioned by rise in oil price leading to fat monthly federal allocation from Abuja and other huge funds from the oil boom..
 However, unlike his two other predecessors in office, the immediate past governor of the state, Dr. Ifeanyi Ugwuanyi, who many have described as a silent achiever and Apostle of peace was not too lucky when he became governor in 2015, a time the state purse grew leaner and Nigeria's economy was in recession, leading to the dwindling of the monthly federal allocations
 The all-time low -federal allocation was a major setback which his predecessor did not experience as earlier pointed out.
 The administration under Ugwuanyi's watch was receiving less than 30% of federal allocations the previous administration received due to the nation's economic downturn occasioned by the nose-dive of oil prices in the international market.
 Without sounding sentimental, despite the huge financial challenge, former governor Ugwuanyi, was up-to-date in the payment of the new N30,000 minimum wage and its consequential adjustment to the state civil servants – a huge burden on the state's lean resources.
 At the peak of the nation's economic recession between 2015 and 2016, Ugwuanyi was able to pay workers' salaries when 27 states of the in the country could not pay, let alone embark on capital projects, as most  state governors resorted to bailout funds unlike their predecessors who had access to crude oil funds which enabled them to execute capital projects in their respective states.
 It's on record that the immediate past  Enugu state governor, Ugwuanyi is the only governor in the history of Enugu State to witness two national economic recessions within five years of his administration, and also witnessed the devastating  #EndSARS protests by Nigeria youths during which huge government facilities were damaged.
His Administration equally witnessed the deadly novel COVID-19 pandemic which cost the state government huge amount to ensure safety of citizens, insecurity among others major  challenges which ate deep into the state purse.
 As one of the states that recieve the least monthly federal allocation every month,  the lean resources no doubt,  brought major setbacks to the actualisation of his lofty dream  for the state, as contained in his well-spelt-out four-point agenda (manifesto) of seamless continuity and consolidation.
 With the State's huge monthly wage bill to be serviced in spite of the state's limited resources following the status of its capital, Enugu, as the historical capital of Southern Nigeria, Eastern Region, East Central State, old Anambra State, old Enugu State and present Enugu State, his administration was been dutyfuly committed to payment of great number of retired pensioners from other South East states who served the old states with Enugu as their capital and still receive their monthly pensions and other retirement benefits from the coffers of the Enugu State government. What a huge financial obligation eating deep into the state's meager resources!
 He  was  the first governor of Enugu State since 1999 to lead the state on the platform of a political party (Peoples Democratic Party, PDP) that is in opposition to the political party at the national level (All Progressives Congress, APC). What an obvious disadvantage, vis-à-vis setback in terms of federal government patronages and considerations.
 Ugwuanyi,  a former member of  the Federal House of Representatives, in keeping with his inaugural address in 2015, his administration championed an unprecedented rural development drive, concentrating development more in the rural communities than in the urban areas unlike his predecessors, with a view to striking  a balance and give those in the localities, who are equally bona fide citizens of Enugu State but were hitherto neglected for a long time, a sense of belonging.
 Further more,  in keeping faith with his promises in his inaugural address to pay a special attention to rural development "because majority of our people live in the rural areas", and to equip and modernise Nsukka – a University town founded over half a century ago, his administration executed most of its development projects in Nsukka zone and rural areas, while deploying the state's meager resources to execute and maintain new and existing facilities in Enugu urban respectively, such as the first ever flyover bridge to be constructed by the state government, located at T-junction, Nike Lake Road, in Enugu East local government area of the state.
 After former Nigeria's first president, (Dr. Nnamdi Azikiwe),  the Owelle of Onitsha, who attracted the University of Nigeria Nsukka (UNN) to Nsukka, Ugwuanyi  is the second person to bring a university to Nsukka zone, the State University of Medical and Applied Sciences (SUMAS), Igbo-Eno, Enugu State.
 Other legacy projects attracted by Ugwuanyi included,  a federal polytechnic to Nsukka zone, in Ohodo, Igbo-Etiti Local Government Area, transformed the university town of Nsukka with a befitting State Secretariat Annex, Conference Centre, 5,000-seat Township Stadium and network of roads fitted with street and traffic lights including the state-of-the-art 12km Opi-Nsukka dual carriageway with underground drainage system, the 31km Udenu Ring Road, modern educational and health facilities, among numerous others.
 It's also on record that the former governor and Insurance guru, from Udenu local government  area of the state, is the man behind the listing of Enugu as an oil producing state, a lifeline for the present  administration Governor Mbah led government.
 Ugwuanyi's disposition to peace earned Enugu state the status of the most peaceful state in Nigeria, as attested by a former Inspector General of police.
 He is a humble and God-fearing leader who has entrenched enduring peace in Enugu State and maintained a peaceful relationship with his predecessors and other leaders of political, religious and traditional institutions.
 Ugwuanyi, while on the saddle enjoyed an uncommon harmonious working relationship with the state workforce and the leaders of the organized labour, the Nigeria Labour Congress NLC, as it's counterpart, Trade Union Congress TUC from the inception of his administration – a feat that was never experienced in the past.
 As a silent achiever, former governor  Ugwuanyi has the following projects to his credit, which includes roads and bridges and were under reported.
 Despite the huge social amenities, put in place by the Ugwuanyi's administration in parts of the state and in every sector, especially rural Communities, some enemies of progress have been insisting that the former governor didn't provide dividends of democracy to the people, hence they always engaged in unfair criticism of the government.
 For the avoidance of doubt, this writer has chronicled some of the overwhelming projects executed by the Ugwuanyi led  government during his eight years in office.
 He Rehabilitated and remodelled the ancient, historic and undulating 11km Milliken Hill-Ngwo-9th Mile road which was almost a death trap before his intervention, constructed the first flyover bridge by Enugu State Government located at T-Junction, Nike Lake Road, Enugu, constructed the 12km Opi-Nsukka dual carriageway with underground drainage system fitted with street and traffic lights up to University of Nigeria (UNN) gate, and  Constructed the Ebonyi River Bridge, Ikem, Isi-Uzo Council area of the state.
 His administration also Constructed the 31km Udenu Ring road with two high-tech bridges, Udenu local government area, rehabilitated the Iva Valley roads in Enugu North local government area,
Constructed the 8.8km Nkalagu-Eha Amufu road in Isi-Uzo LGA, neglected for over 35 years, Constructed the 26.66km Ukpabi-Nimbo-Ugbene -Ajima-Eziani road in Uzo-Uwani LGA (RAMP-2)
 Also Ugwuanyi, Constructed the 22.443km Neke-Mbu-Ogbodu Aba-Obollo Etiti inter-community road linking Isi-Uzo and Udenu LGAs (RAMP-2), constructed (Earthwork) the 16km erosion ravaged Eha-Ulo/Eha-Etiti/Eha-Ndiagu-Mbu road and 24km Premier Junction-Umabor-Mbo road (RAMP-2), covering 40km, being constructed across thick forests and difficult terrains,
Constructed (Earthwork) 8.580km road project linking Ihe with Ogbaku Town in Awgu Local Government Area (RAMP-2)
 His administration also Constructed the 13km Nike Lake junction-Harmony Estate-Amorji Nike-Adoration Pilgrimage Centre-Orie Emene road linking the ever-busy Abakpa Nike with Emene satellite town in Enugu East LGA, Reconstructed the Nike Lake Road and Abakpa Nike Road in Enugu East LGA, Constructed the Amaeke-Ngwo-Nsude-9th Mile and Amankwo-Amaeke-Amah Brewery Junction-9th Mile bypasses in Udi LGA, Reconstructed the Airport Roundabout/Orie-Emene/ St. Patrick's College/Eke-Obinagu Road in Enugu East LGA, Reconstructed the Enugu Road (Nsukka) Junction-Umuezebi-Nru Junction-University Gate road in Nsukka town
 Ugwuanyi equally Reconstructed the Post Office Roundabout-Odenigbo Roundabout -Ogurugu Road-Ikenga road in Nsukka town, Reconstructed the Obechara Road Junction-Umunkashi- Mechanic Village-Ikenga Hotels Junction road in Nsukka town
Constructed the 8.2km Inyi-Akpugoeze road in Oji River LGA, Constructed the Ituku Road in Awgu LGA and the Amurri road in Nkanu West LGA
 He simultaneously executed 35 grassroots development projects across the 17 Local government areas of the state
Rehabilitated urban and rural roads in Emene, Abakpa-Nike, 9th Mile Corner and the University town of Nsukka, Rehabilitated more internal roads in the University town of Nsukka, covering over 11km, namely Aku Road, Echara Road, Beach Junction-Umanu Road, New Anglican Road, Amaobi Road, New Market- Aludele – Eruchara Road, Sen. Fide Okoro-Amaeze- Saint Theresa's- Anglican Road, Justina Eze Street, amongst others.
 The Ugwuanyi's administration  Rehabilitated the old UNTH-Bunker road, Enugu; constructed the Holy Trinity Street -Bishop Michael Eneja Street, Independence Layout; Mount Crescent, GRA; Orofia Street, off Nza Street, Independence Layout; Dental School-Tipper Garage road Trans Ekulu, Enugu; Ugwuaji-Loma Linda-Timber Shed road, Maryland, Enugu; Nwafia Street, Independence Layout;Mbanefo Street, New Haven;
 He Executed the  Secretariat Road, G.R.A; Court Avenue by new State Secretariat; Ibuza Street at Independence Layout; Isi Uzo Street at Independence Layout; Owerri Road; Poly Clinic Road, Asata; Carter Street, off Ogui Road; IMT Boulevard, Phase II; Prof. Ofili Ugwudioha Street, Independence Layout, Enugu etc
 Construction of a network of roads with drainage system at GRA, Enugu (Justice Nwazota-Ilogu Close Road with a spur to Works Road Layout, GRA, Enugu) Reconstructed the 5km University of Nigeria Nsukka (New Gate) by Nru Junction – 9th Mile-Makurdi expressway
Constructed the 2.35km access road to Legacy Estate, Trans Ekulu, Enugu, Reconstructed the Agbani Road (from Police Detective College – Garki Flyover by Enugu Port Harcourt Expressway; Ugbaike, Enugu Ezike – Obollo Afor link road with smart solar streetlight
 The administration equally intervened in the Eke Amala – Otukpo Old Road; Amadi – Agbougwu-Amajioke road Umuokere – Igugu Road, Phase 1, Udenu LGA Construction of Eke Likke – Iheaka Junction – Amagu Uwani – Ekoyi Iheaka -Uhunuowerre – Iheakpu Awka road in Igbo-Eze South Local Government Area (ongoing)
 Reconstruction of Ibagwa Junction-Itchi in Igbo-Eze South Local Government Area (ongoing) Construction of road network in the Crystal Court estate beside NTA premises, Independence Layout, Enugu (Ongoing)
 Constructed access road and internal road network in the House of Assembly Layout behind ENHA, Independence Layout, Enugu Asphaltic concrete road and drainage system on the road to Udenu LGA, Spot improvements of urban roads within the EnuguMetropolis
 Emergency erosion control and protective works at Atavu Stream, Amaechi – Amodu – Umueze Road, Nkanu West LGA; Neke/Mbu – Ogbodu Abba/Obollo Road at Chainage 3+210 in Isiuzo LGA; Asata River, Lagos Street, Enugu North LGA; Agu Orba and Imiliki Etiti in Udenu LGA; Ogui River at Works Road, GRA; University Road, Nsukka; Works Road at Works Layout, GRA amongst others
 Constructed the Mission Junction – Owolloti – Ogoma Ring Road (Phase II), Iwollo Oghe, Ezeagu LGA amongst others Swamp reclamation at Works Road layout, GRA, Enugu
 On building and other infrastructure, Ugwuanyi, renovated the House of Assembly Complex
Rehabilitated and re-asphalted the popular Michael Okpara Square, Enugu, Completed the new Lion Building, Government House, Enugu, with additional works such as landscaping and installation of floodlights and security lights Renovated the Deputy Governor's office, Abuja Building, parking lots, among others, within the premises of the Government House, Enugu, among others Constructed the first phase of the Enugu State Secretariat Annex in Nsukka satellite town Remodelled the old Premier Lodge into Zik Centre (an ultra-modern tourist centre today) in honour of Dr. Nnamdi Azikiwe, first Premier of Eastern Region
 Constructed a befitting conference centre at Nsukka adjacent to the State Secretariat Annex comprising multiple halls, other indoor activity hubs and recreation facilities such as adult and children swimming pools and Lawn Tennis Court  Constructed ultra-modern 5,000-seat Township Stadium, Nsukka
 He Constructed and inaugurated the massive Unity Park, formerly known as Forest Reserve, Enugu, to serve as a tourist attraction and a place for relaxation and recreation; Constructed 10 units of Executive Guest House at the Old Government Lodge, G.R.A, Enugu, for routine guests of the state government. Constructed the first Christian Chapel of Worship at the Government House, Enugu
 Remodelled the Old Government Lodge, GRA, Enugu and constructed an Annex,  Constructed a befitting Banquet Hall at the remodelled Old Government Lodge, GRA, Enugu Constructed 24 units of Guest Flats at remodelled Old Government Lodge, GRA, Enugu Reconstructed and rehabilitated the Nigeria Union of Journalists (NUJ) Building, Enugu Construction of Nsukka Press Centre at Nsukka Local Government Area
 The administration equally Construction the Enugu State Fire Service Headquarters as the 1st Headquarters for the Service at Ogui Road Fire Station by Otigba Junction to enhance the fire response capacity of the Service
 Renovation of buildings (blocks A and B) at the Enugu State Marketing Company Limited Constructed/reconstructed INEC Office Buildings at Awgu, Udenu, and Independence Layout
 He Procured 140 pieces of Waste Bins to replace old ones scattered across the Metropolis to enhance the cleanliness of Enugu City
Provided transformers for Awha Ndiagu Community in Ezeagu LGA; Igga Community in Uzo Uwani LGA; Odume Sub-station, Agbudu Udi LGA; Agamede Isienu, Amutenyi Obollo; St. Patrick's Parish, Ohom Orba, Udenu LGA; Abakpa Cantonment Water Works; Mary Agro Farms Udi, Udi LGA; Abakpa Military Cantonment Waterworks, amongst others, to ensure and enhance power supply to the communities and facilities
 In the area of Rural development, he embarked on uncommon rural development policy, concentrating more infrastructure in the rural and long-neglected communities, such as simultaneously executing 35 grassroots development projects (completed) across the 17 LGAs and the N5 million "one community, one project" scheme in each of the 471 autonomous communities in the state
In the area of health sector, Ugwuanyi completed the state-of-the-art Enugu State Medical Diagnostic Centre, Enugu, and handed over to the Nigerian Sovereign Investment Authority (NSIA) as "Medical Diagnostic and Oncology (Cancer) Treatment Centre, Enugu" to provide comprehensive medical, diagnostic and oncology (cancer) treatment services to the people of Enugu State and beyond
 Construction and renovation of district hospitals and health centres in the state, especially in the rural areas under the Primary healthcare programme upgraded Udi District Hospital and Poly Clinic, Asata to General Hospitals, after their rehabilitation
 The administration constructed new buildings/remodelled the Colliery Hospital Enugu now known as the Enugu State Infectious Disease Hospital, Enugu, for isolation and treatment of      patients with infectious diseases
 He intervened and integrated faith-based rural health facilities into the Free Maternal and Child Health Programme, Constructed 7 units of Model Type 3 Primary Healthcare Centre in 7 LGAs
 Also to his credit is the  Ongoing construction of 3 additional Model Type 3 Primary Healthcare Centres in 3 LGAs.  Upgraded and rehabilitated the General Hospital Ogrute, Enugu Ezike, and Nsukka District Hospital, among others
 Massive construction of a Teaching Hospital for the newly licensed State University of Medical and Applied Sciences (SUMAS), Igbo-Eno
 Constructed and equipped 2 nos. 12-classroom faculty buildings, 2 nos. 10-classroom faculty buildings and 2 nos. Medical and Applied Sciences (SUMAS), Igbo-Eno Constructed two-block of student hostels with 120 bed spaces at SUMAS, Igbo-Eno
 He  Provided 10 industrial water boreholes with overhead tanks and external electrification engineering services at SUMAS, Igbo-Eno
Constructed a Specialist Hospital in Igbo-Eno and re-designated it as SUMAS Medical Centre
 The administration  Construction of Cottage Hospital with isolation wing in Awgu, Oji River, Ogrute (Enugu Ezike) General Hospitals, and also in Orba, Udenu LGA
Constructed, landscaped and equipped the Amenity Facility at Enugu-Ezike General Hospital, Ogurute, Igbo-Eze North LGA.
 He built and upgraded the Accident & Emergency  building of the ESUT Teaching Hospital, Parklane, Enugu to a 2-storey building, furnished and put to use. Procured equipment such as Laparoscopic machine, Cardiotocography & Ultrasound (CTG & USS) machines, Feto-maternal patient monitor, among others, for ESUT Teaching Hospital, Parklane, Enugu to enhance the capacity of the hospital in diagnosis and treatment of illnesses and    antenatal care
 The  Ugwuanyi administration successfully launched the Universal Health Coverage Scheme through the Enugu State Agency for Universal Health Coverage to enable the delivery of free healthcare to vulnerable persons, with a target to enroll all Enugu State residents into the Scheme
 He equally  endured Monthly release of capitation fund to 161 accredited Primary Health Centres across the 17 LGAs for the provision of free healthcare to 42,000 registered vulnerable, physically challenged and indigent persons in the State.
 Registration of 145,000 vulnerable persons representing 3% of Enugu State population for healthcare priorities for 2023 under the Universal Health Coverage Scheme
 During the intervention on the Covid 19 pandemic, Ugwuanyi's Administration released N350 million to the state's COVID-19 Multi-Sectoral Rapid Response Team. Established  Isolation and Treatment Centres for COVID-19 in Nsukka and the ESUT Teaching Hospital, Parklane, Enugu
 He Equipped the ultra-modern Enugu State Medical Diagnostic Centre (then) and designated it as an isolation and treatment centre. Approved welfare packages for all health workers in the state as incentive to battle COVID-19, purchased two additional ambulances and one incident vehicle
 The rehabilitation of facilities and provision of essential supplies in 34 health facilities across the 17 LGAs, to scale up delivery of linked services and preparedness against community spread of COVID-19 pandemic by the Enugu State Save One Million Lives (SOML) Project.  Life assurance policy for frontline workers.
He Granted tax relief and incentives to tax payers in the state to cushion the adverse economic effect of the COVID-19 pandemic on residents, especially ordinary masses
 In the area of Education, Ugwuanyi established the State University of Medical and Applied Sciences (SUMAS) which is to commence academic session soon, Recruited over 7,030 primary and secondary school teachers
 He Executed over 1,355 verifiable projects in various primary and secondary schools across the 17 Local Government Areas of the state under ENSUBEB and PPSMB, in line with the administration's vision to improve the learning condition of the students
 The government procured and distributed 22,150 lockers and 22,150 chairs for primary school children, 1,228 tables, 1,228 arm chairs and 2,456 armless chairs for the teachers, as well as 1,130 marker boards for teaching and 1,960 ceiling fans, for conducive learning environment (under ENSUBEB). It also acquired and distributed 12,480 writing desks and chairs for primary school pupils in the state and 868 tables and chairs for teachers to improve the standard of learning (ENSUBEB)
 He ensured Massive construction and reconstruction of classroom blocks, offices and hostels in the secondary schools across the six education zones of the Post Primary Schools Management Board (PPSMB), Provided Science equipment to more than 151 secondary schools (under PPSMB)
 The government under Ugwuanyi's watch Supplied and installed computers to 490 secondary schools (under ENSUBEB and PPSMB) converted 1,000 volunteer teachers to permanent staff and release of all outstanding arrears of promotion to date (under PPSMB)
 Ongoing construction of the state-of-the-art administrative building of the first degree-awarding institution in Education in the South East zone, the Enugu State University of Education in Ihe, Awgu LGA, established by Gov. Ugwuanyi's administration to serve as a centre for training of teachers for primary, secondary and tertiary education, amongst other projects in various sectors.
 But regretably, like the biblical saying that a king is not honored in his place, despite all the former governor did for the State and his Kinsmen of Enugu North Senatorial district, , they paid him back with evil, by voting against him during the last general election which he contested for the Senatorial race.
 As a man of peace, despite the political gang up against him  by his Kinsmen, Ugwuanyi, has remained calm  since after the election, and has continued to relate with his people as usual.
 Going by Ugwuanyi's kind of person, and the  overwhelming infrastructural legacies he left behind in the state, his critics will in no distant time realize their mistakes, while his  Kinsmen, will regret their action.
_______________________________
Support African Examiner's Free Journalism. By making a little donation, you are ensuring this site is free for all; you are also helping us to stay afloat and fulfill obligations to our reporters and other service providers: Thank you for your supports.
Send donations to:
AFRICAN EXAMINER LTD, 1016408743, UBA
AFRICAN EXAMINER LTD, 2028842299, First Bank
AFRICAN EXAMINER LTD, 1012873398, Zenith Bank

For Enquiries send text to: +234.809.111.3268, +1.443.904.1239
Short URL: https://www.africanexaminer.com/?p=88700