EPL: Norwich Relegated As Liverpool Drops Home Points
Latest News, Sports
Saturday, July 11th, 2020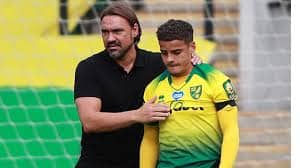 (AFRICAN EXAMINER) – Norwich became the first team to be relegated from the English Premier League as Liverpool dropped points at Anfield for the first time this season on Saturday.
Michail Antonio scored all the goals for West Ham in its 4-0 win over last-placed Norwich, which cannot stay up because it was 13 points behind 17th-placed Watford with a maximum nine points on offer from the three remaining games.
Watford, like West Ham, boosted its survival hopes by coming from behind to beat Newcastle 2-1.
West Ham and Watford are both six points clear of 18th-placed Bournemouth, which occupied the final spot in the relegation zone.
Norwich returns to the second-tier Championship after just one season, having lost all six of its matches since the restart of the league last month — scoring just once in the process.
"From the first day after promotion, our chances to survive were perhaps 5%, so in 19 out of 20 cases you will go down," Norwich manager Daniel Farke said.
Meanwhile, league winner, Liverpool dropped point for the first time this season at Anfield by playing 1-1 draw with Burnley.
(FOX)
Short URL: https://www.africanexaminer.com/?p=53695