Fergusson: St. Louis Police Suspend Cop Who Threatened To Kill Journalists, Protesters   
Latest News, Trending Stories, World News
Thursday, August 21st, 2014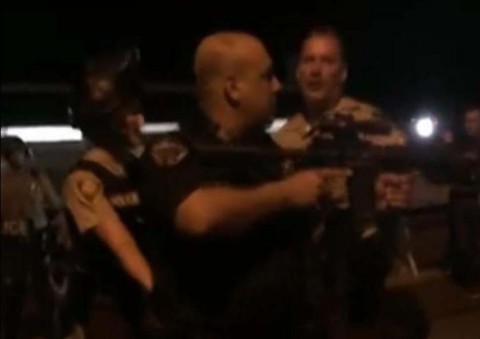 The suburban St. Louis Police authority on Wednesday suspended an officer who threatened to kill journalists and assaulted crowd, during Tuesday night protest in Ferguson, Missouri.
The suspension coincided with the United States (US) Attorney General, Eric Holder's visit to the restive Ferguson province for full and independent investigations on the killing of unarmed black teenager, Michael Brown by a Police officer, Darren Wilson on Saturday, August 9, this year.
The suspended officer who initially faked his identification has however been confirmed as Lt. Ray Albers, a 20-years old member of the force.
Albers in a video clip was seen dangling and pointing gun at crowd walking along a Ferguson street, shortly before Tuesday midnight. This was contained in a statement by the Louis County Police Department.
The crowd were also seen in the video touting and screaming his name – "Your name's go F – yourself…"
Earlier before the suspension and arrival of Attorney – General on Wednesday, the US authorities had announced dispatch of the National Guards to douse tension in the troubled Ferguson.
Short URL: https://www.africanexaminer.com/?p=16515