Governor Orji Urges Fairness As Tension Rises Amidst Disputed Abia Election Results
Featured, Latest News, News From The State, Nigeria 2015 Election
Wednesday, April 15th, 2015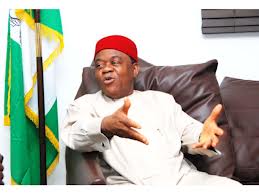 Following delay in the release of the last Saturday Governorship and House of Assembly Elections, Abia State Governor Theodore Orji has expressed concern and called on the Independent National Electoral Commission (INEC) to be conscious of its conduct and "live above board."
Consequently, Governor Orji who called on the state's politicians not to turn politics into "do or die affair", advised all candidates in the election to turn off the garb of desperation in their quest for political office as power could only come from God through the people.
In a special post – election broadcast Wednesday, the PDP South East Governors' Forum Chairman, warned the youths not to make themselves available and be used as tools in the hands of desperate politicians to create chaos and mayhem in the State.
Governor Orji who recalled that the Abians were encouraged to go out on the poll day, to perform their civic responsibility, without let or hindrance, also advised parents and guardians to rise to the occasion and direct their wards as well as young people under their care to the "noble path of rectitude and good conduct".
While lamenting the dashed expectation of Abians of an early result, as done in other states, a situation, which he noted has heightened tension and raised emotions in the State, the outgoing Governor of the South Eastern State, advised all Abians and the general public to be patient and law abiding at all times, especially in the days ahead as the election results were being awaited.
"We expect INEC to do the needful by announcing the outcome of the gubernatorial and House of Assembly elections conducted in the state on the 11th of April, 2015 or on any subsequent date, without further delay, in accordance with the extant laws and guidelines on the subject of elections in the country" Orji directed.
The Governor who stated the State has not recorded any political assassination or killing in the state, insisted that INEC must remain alive to its constitutional responsibility of conducting credible elections and must at all times, be conscious of the fact that citizens attached so much importance to their rights to choose their leaders, which should not be denied in any form.
In his words, there were guidelines on conduct of elections in the country and ample electoral laws on the subject of elections which must be strictly applied in the interest of all participants in elections and the citizenry; a deviation from these guidelines or an attempt to subvert the will of the people as expressed in their votes, he declared might lead to unpleasant consequences.
The Governor equally enjoined security agencies to live up to their responsibility by ensuring that peace is maintained in the State.
Short URL: https://www.africanexaminer.com/?p=23205