Group Wants Jonathan to Make Al-Mustapha EFCC Chairman
Featured, Latest News
Tuesday, October 15th, 2013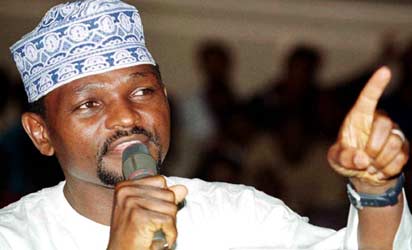 The Northern Emancipation Network, a northern youth group has advised President Goodluck Jonathan to reinforce his administration's war against corruption by making Major Hamza Al-mustapha head of the Economic and Financial Crimes Commission.
At a press conference addressed by its Coordinator, Abdul-Azeez Suleiman, the group described Al-mustapha as a brave, fearless and honest intelligence officer capable of taking the administration's corruption war to the desired level.
"While we commend Mr President's committed war against corruption, we advise him to reinforce the EFCC with an equally committed and dedicated head like Major Hamza Al-mustapha who is capable of moving the graft war to the desired level, " Suleiman said.
He pointed out that already, corrupt politicians particularly the bankrupt northern political leadership are jittery with the release of Al-mustapha whom they persecuted unjustly for 14 years.
According to the group, even after going through 14 years of unjust persecution in the hands of these people, Al-mustapha is not an officer known to harbour vengeance and will therefore carry out the corruption war unbiased though without fear or favour.
"Driven by a burning desire to reinvent Nigeria and it's battalion of neglected and deprived young people, Al-mustapha could fearlessly confront the embarrassing official corruption in the country and bring it to it's knees, " Suleiman said.
Short URL: https://www.africanexaminer.com/?p=2946