I've not abandoned New PDP -Babangida Aliyu
Featured, Latest News, News
Tuesday, October 29th, 2013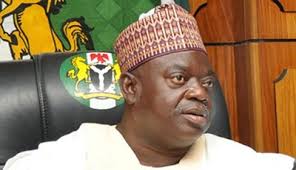 Femi Kehinnde
Niger State governor, Babangida Aliyu has debunked a report in the media that he has abandoned the new PDP and the G-7 governors due to irreconcilable differences, insisting that the story was planted by political adversaries.
The governor, while receiving the national executive council of the Public Service Union, led by its national president, Comrade Mohammed Ibn Shuaibu, in Minna for their delegates conference, noted that he is the leader of the G-7 governors and could not abandon the fold.
"It is a surprise that many officials seem to come from the G-7 states because I woke up this morning with a shock.  Our chairman called me to confirm what a newspaper wrote: that just because I was not in the meeting, I have pulled out of G-7; I am the leader of G-7.  I regard that as handiwork of the enemy who are trying to break our ranks." Aliyu stated.
The chairman of Northern Governors Forum said the national daily that reported the story based its fact on his inability to attend the last meeting of the group, adding that he was absent because he was sick and the timing of the meeting was not suitable for him to move from Minna before the said time.
"You might have noticed when I came in: I have been coughing since day before yesterday. I was not feeling well but I wanted to go because my state capital is nearest to Abuja; usually I don't mind about my late arrival.  I just want to go.  I did not intend to leave this town till about 2pm when I got a call that Sokoto State governor had requested a shift because he had a programme of opening the state university and that he had requested for the meeting to be shifted from 8am to 2pm. So I sent my apology that there is no how I could catch you.  I was still in Minna by 2pm.  I spoke to three of my colleagues and tendered my apology and, by the way, I am not even feeling too well but I intended to travel," he explained.
"When other of my colleagues were not around, I attended G-7 meeting on their behalf.  I cannot see why my absence will be misconstrued and, moreso, this is not a time to pull out when, out of respect for the office of the president and the president himself, we are discussing with him as governors of G-7 and we have tabled issues and we are discussing with him. You cannot pull out at this moment — the time for decision to be taken. We will be the ones to conclude discussions with the president.
"The whole essence of G7 is to ensure that there is democracy in the ruling party. Believe me, if there is no democracy there, then, there is no democracy in the country. But let's move on: Babangida Aliyu  is a member of G-7. What we are asking for is democracy, equity. And I will continue to ask for that even outside government " Aliyu said.
Short URL: https://www.africanexaminer.com/?p=3987