Kaduna: Sen. Sani, Suleiman Hunkuyi Dump APC
Featured, Latest News, News
Friday, July 13th, 2018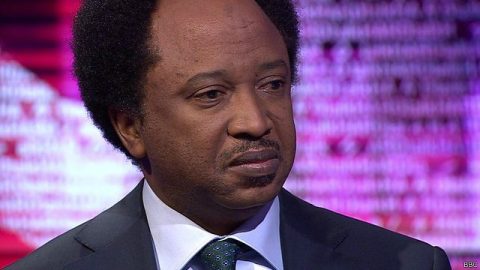 (AFRICAN EXAMINER) – The crisis rocking the Kaduna State APC Friday reached the peak, as factional members including a serving Senator, Shehu Sani under the name, Akida and Restoration group announced their exit from the ruling party.
The Chairman of the group, Matamaiki Tom-Maiyashi announced the decision at the groups' press conference in Kaduna, the State capital.
He specified that they left because the APC was not ready to accommodate alternative opinions or allow democracy to take its course in the conduct of party affairs.
Other prominent members of the group are: Senator Suleiman Hunkuyi (APC Kaduna North), Tijjani Ramalan, the owner of Liberty Radio and Television stations, Dr. Hakeem Baba-Ahmed among others. Senator Sanni, a staunch critic of Governor Nasir El-Rufai is representing Kaduna central.
According to Tom-Maiyashi the "joint Press Conference is the culmination of extensive reviews and consultations over the state of the APC in Kaduna State as well as in the nation.
"As you will appreciate, groups such as ours that had been part of the efforts to keep our Party along the lines of survival, accountability and integrity will be diligent in ensuring that whatever steps we take are consistent with our high sense of responsibility.
"We are satisfied that the positions we have arrived at are in the best interests of our members and the ongoing-efforts to create options and strategies that will rid our nation of undeserved and avoidable challenges.
"Members of our two groups have decided to leave the APC because it is incapable of accommodating and responding to well-meaning dissent, criticism and demands for inclusiveness and internal democracy, "the factional Spokesman stated.
He accused the APC of failing the millions of people who labored to put it and who expected genuine change.
The groups called on their members to formalize their withdrawal from the APC.
Tom-Maiyashi declared: "We are engaged in serious discussions with parties which share our values and principles towards political collaboration that best suits our interests and in due course, we will make public, the outcome of these discussions.
"We want to commend the resilience and commitment of our members in the face of institutionalized exclusion, marginalization and abuse. We urge them all to keep faith".
Short URL: https://www.africanexaminer.com/?p=44910