Lagos Governorship: Hamzat Faults Akiolu's Claim To His Indigeneship
Featured, Latest News, News, Politics
Monday, September 8th, 2014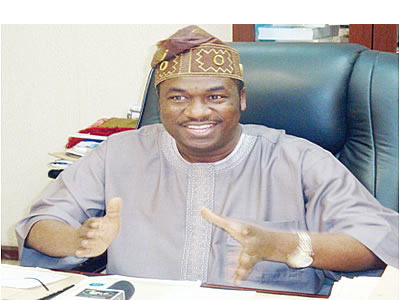 Dr. Kadri Hamzat, Lagos Commissioner for Works and Infrastructure has punctured Oba Rilwan Akiolu's claim that he is not a Lagosian and cannot be governor in Lagos.
Hamzat, in an interview, said he is a Lagosian by origin as his father hailed from the Ajiborisa family in Epe, Lagos, Nigeria.
Akiolu had during the launch of a book on Akinwunmi Ambode endorsed the candidacy of the former Accountant General of Lagos, saying there was no way someone whose father is an oba in Ewekoro would come to govern Lagos.
Countering Akiolu's claim, Hamzat said he is from the Ajiborisa family in Epe and that the first Military Administrator of Osun State, Gen. Ajiborisa (rtd) is from the same family with him in Epe.
"The reality, when my father became a king, he took the title of Ajiborisa 1. Their name is Ajiborisa but because of religion, some of them said they don't want to be Ajibo Orisa, his own name is Hamzat, but the family name is Ajiborisa and thankfully today, there are people that are alive, there is Ajiborisa family in Epe, we are from the same root," he told a Lagos weekly magazine in an interview.
"Because it is time now for people to understand, we are from the same root and the good thing is that there are eminent Nigerians that are in that family, Gen. Ajiborisa, the first Administrator of Osun State is alive and you can and interview him, we are from the same root.
"So what happened was that my own great grandfather, there are four of them, he was a herbalist as I was made to understand, he now went to that village in Ogun State, they had some diseases in that land that he went to cure. They gave him land in that village and he stayed there. His root was actually from Epe. But his root is actually from Epe that is the reality, there are people today alive, Gen. Ajiborisa, he was the Chief of General Staff to Abdulsalam, but all these things would not matter and that is why," he explained.
Hamzat said contrary to views that his mother is from Epe, he saw his mother hailed from Iga Igbe in Lagos Island.
"In 1861 when Kosoko actually went to Epe, my own maternal great grandfather happened to be one of the people that followed him. So they went to Epe, so that is Eko Epe came to being. So when they went to Eko Epe, their family settled, they have Egbe Cult in Epe which is made up of four families, the okanu family, so my maternal grandfather is Okanu. That is where my dad saw my mum and they got married.
"So, something that has happened, how can people just dispute that, the reality is that, in any case, the truth must be told, since Akinsemoyin, every king in Lagos comes from the woman side, that is the truth. The reality for me is that I have my leg, my arms in Lagos," he stated.
Hamzat also declared his interest to vie for the governorship seat of Lagos, saying that with his experience in government for over eight years, he believed he is the right man to continue to legacy Governor Babatunde Fashola has set in Lagos.
He hoped that the All Progressive Congress (APC) would ensure a fair game at the party's primary election later next month.
Short URL: https://www.africanexaminer.com/?p=17192