More Knocks Trail Nigeria's Abstention Vote On Palestinian Statehood
African News, Featured, Latest News
Friday, January 2nd, 2015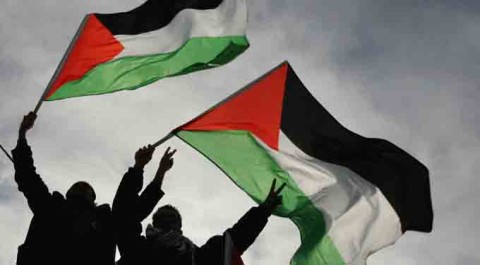 More criticisms have trailed the abstention of Nigeria from casting a vote in favour of Palestinian statehood at United Nations Security Council (UNSC) on Tuesday night.
The trio of Rasheed Adesokan, a defence analyst, Wahab Egbewole, Professor on Jurisprudence and International law and Femi Abbas, a media consultant, expressed shock over the sudden shift in Nigeria's foreign policy.
Adesokan, who doubles as Executive Director, Nigerian Society for Strategic and International Studies said in an exclusive interview in Ibadan that the abstention of Nigeria on Palestinian statehood was very sad.
The veteran of the Nigerian Civil war said in Ibadan that " Nigeria has always been known to be in support of the oppressed countries why we abstained beat everybody's imagination.''
Adesokan said that the shift in Nigeria foreign policy "means we are not in control. We are being controlled by some powerful forces for their own selfish interest''.
"Our leaders are not concern about our common national interest but pursuing their personal interest. We are yet to wake up. We are clueless. It is a pity'', he said.
The public affairs analyst, however, expressed optimism that the people of Palestinian would eventually win, with or without Nigeria's support.
"Why they go to UNSC beat my imagination. The place was divided into two since 1948 between it and Israel, there is hope at the end of the day'', he said.
Adesokan wondered why Nigeria noted for fighting for human rights, stood aloof in the Palestinian case despite long standing relationship with Palestinian Liberation Organisation (PLO).
He said the way forward was for operators of Nigeria foreign policy to sit down and see that they do not mortgage their hereafter at the expense of the good things of this world.
In the same vein, Prof. Wahab Egbewole stated in a statement entitled: "Opportunity Lost, Injustice Enthroned'' that Nigeria has lost a very big opportunity to edge her name in gold.
"It was missed opportunity for Nigeria to make yet another history as a champion of worthy causes and the supporter of the oppressed'', he said.
Egbewole, who is the national President of Obafemi Awolowo University Muslim Graduates Association (UNIFEMGA), said "like its lackluster domestic policies, the Nigeria foreign policy has glorified and enthroned injustice''
This he said was done " by sitting on the fence on the Palestine vote instead of coming out clearly to denounce man's inhumanity to man and the current regime of might is right''.
"We condemn in no unmistakable terms the stance of the government of Nigeria which does not represent the collective aspirations of the majority of Nigerians.
"On behalf of UNIFEMGA, we pitch our tent with the long suffering people of Palestine who were denied peace on their land, subjected to untold hardship and displaced in their territory'', he said.
Egbewole said as Muslims, "we are convinced that Allah is just and will redress this injustice which the Nigerian government assisted in perpetrating, Allah is always on the side of the truth''.
In his comment, Alhaji Femi Abbas described the abstention of the Federal government of Nigeria at the UNSC meeting on Palestinian matter as a" betrayal of conscience''.
Abbas, who is a media consultant to Muslim Ummah of South West of Nigeria (MUSWEN), recalled that the period between 1967 to 1985 when Nigeria broke relationship with Israel, religion was not at all in consideration.
He said the issue of liberation was seen purely as a humanitarian affair "which deserved human feeling rather than sheer political contention''.
"If religion had been at the front burner of Nigeria's foreign policy, Yakubu Gowon, a Christian, would not have taken Nigeria into the Organisation of Islamic Conference (OIC) and Ibrahim Babangida, a Muslim, would not have restored Nigeria's diplomatic relation with Israel''. He said.
He said Nigeria has who been in fore front in the liberation struggle of many countries shocked the international community with a sudden shift in foreign policy on Palestinian statehood by abstaining from voting.
Abbas, a veteran columnist, however, urge Nigerians to overlook the diplomatic goof and wait for another chance bearing in mind that no diplomatic policy was permanently static.
It will be recalled that UNSC resolution was to be an historic anticlimax of the 66 year old Israeli/Palestinian conflict with a view to paving way for a two nation solution thus creating a peaceful atmosphere for the Middle East.
The 15- member nations of the Security Council were to vote either for Israeli withdrawal or continuous occupation of the area, nine votes were to form the simple majority required to liberate the Palestinians from the political siege of Israel.
Of those 15 member nations, eight voted in favour of the liberation while two voted for continuous Israeli siege on Palestine, while Nigeria and four others abstained.
The Votes:
YES: Argentina, Chad, Chile, Jordan and Luxembourg, China, France and Russia
NO: Australia and the United States
ABSTENTION: Lithuania, Nigeria, Rwanda, South Korea and Britain
Short URL: https://www.africanexaminer.com/?p=21239