"N50 Billion TETFUND Fund Lying Fallow In Commercial Banks"
education, Latest News
Wednesday, March 12th, 2014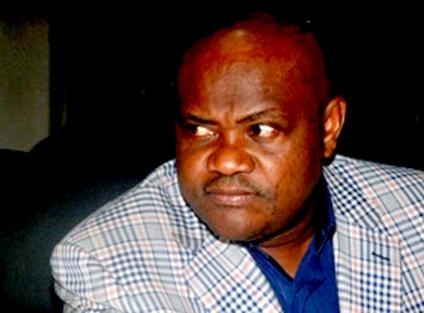 Ignatius Okpara, Enugu
About a whopping N50 Billion naira Tertiary Education Fund TETFUND is still lying fallow in various commercial banks in Nigeria un-accessed, Supervising Minister of Education, Nyesom Wike has hinted.
He said "Every year, these banks declare huge profits with the funds meant for tertiary institution's education funding in the country simply because most of the institution have not seen the need to meet the stipulated guidelines to access these funds".
The Minister however, reiterated commitment of President Goodluck Jonathan's administration towards improving the standard of education in Nigeria via increased funding.
Wike, disclosed this  Tuesday during a Stakeholders Town Hall meeting on,Tertiary Education Trust Fund,TETFUND,Intervention in tertiary Institutions in the South-East geo-political zone.
The meeting attended by Vice chancellors (VCs) of universities in the zone, Rectors of Polytechnics, and provost of colleges of education, took place at the Enugu campus (UNEC) auditorium of University of Nigeria Nsukka.
The Minister assured Vice Chancellors, Provosts and students of the commitment of the present administration in boosting funding for education saying' "We have progressively increased the funds allocated to TETFUND. It is now left for the implementing institutions to access these funds and scale up the educational infrastructure in their various institutions.
"If the institutions do not access these funds, it is a different ball game all together. We have given Universities; N3 Billion under, High Impact, Polytechnic, N2 Billion and Colleges of Education, N1 Billion.
"Government has equally earmarked N200 Billion for Federal and State Universities in the country. All stakeholders should join hands with Federal Government in funding education.
Said Wike: "This meeting will afford us the opportunity to know the areas where you are investing in, your challenges and do a critical appraisal on how to move the education sector forwards".
Earlier, in his speech, Acting Secretary, TETFUND, Mr. Aliyu Manya, had revealed that the objectives of TETFUND is the make funds available to tertiary institutions in such a way that it will add value to research, learning and academics.
He maintained that as supervisory body, TETFUND provides guidelines for funds to be accessed, calling on tertiary institutions in the country to avail themselves of the funds, which he said is derived from two percent tax deducted from cooperate companies annual income
In his remarks, Vice Chancellor, University of Nigeria (UNN), Professor Bartho Okolo disclosed that his administration has executed over 400 projects between
2010-2013 drawing on funds from Tertiary Education Trust Fund, capital allocations from the Federal Government and Internally Generated Revenue IGR.
According to Okolo, UNN accessed N2.6bn from the Education Trust Fund and a further N1.7 in capital allocations over the period under review.
The receipts are from total TETFund allocation of N7.8bn and capital allocation of N3.5bn over the four-year period.
TETfund he said, over time bridges shortfalls between allocation and releases as institutions execute projects and show proof.
He hinted that UNN executed 179 projects with TETfund monies over the period covering physical infrastructure, teaching and learning environment and academic work.
"There were 20 construction projects, six procurements, 39 scholarships for higher studies while the Fund paid for 115 conferences and workshops attended by staff of the institution.
He hinted that Of the 17 projects executed with capital allocations, 15 were construction projects tackling physical infrastructure. Two were procurement for laboratory equipment.
"UNN raked in Internally Generated Revenue (IGR) of N4.9bn over the period. The Vice Chancellor's report showed that UNN executed 227 projects using Internally Generated Revenue.
Okolo added that the breakdown shows 133 constructions, 30 procurement, 35 scholarships and sponsorship of 29 conferences.
Short URL: https://www.africanexaminer.com/?p=9036