Okota-Itire Bridge: Lagos Gives N26.5m Compensation To Property Owners
Ayo Balogun, Latest News
Wednesday, November 20th, 2013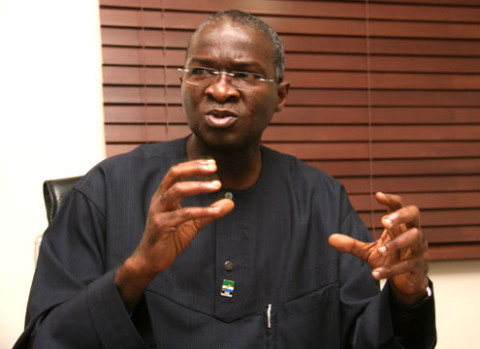 Ayo Balogun, Lagos
The Lagos State Government has presented cheques of N26,550,000 to three property owners whose properties were demolished as a result of the construction of the Okota-Itire Overhead Link Bridge across the Oshodi Apapa Expressway at Cele Bus Stop, Lagos, Nigeria.
Presenting the cheques to the beneficiaries in Alausa, Permanent Secretary, Lands Bureau, Mr. Hakeem Muri-Okunola stated that  the gesture was in fulfillment of the promise of Governor Babatunde Fashola to ameliorate the suffering of those affected by the project.
Muri-Okunola, who was represented by the Director, Land Services, Mr. Oyegbola said Fashola on commencement of the project in 2008 approved compensation payment to claimants whose properties were affected by the Okota-Itire Link Bridge and road works.
He said eight other claimants had in 2010 been awarded monetary compensation on the same project totaling N31.5million. "When paying compensation, we have to be sure that the people are the ones entitled to the compensation, we have to do inspections and valuations, we also have to ensure that the right people are being paid, so we check title documents," he stated.
According to him, those compensated so far were those whose properties were demolished before the construction of the bridge.
One of the beneficiaries, Elder Sylvester Okeke said the compensation was a welcome development considering the challenges that arose from the initialization of the project.
"My house was one of the houses demolished for the expansion of the new road. Well am very grateful, the governor has done his best by approving our payment despite it came after a long time. My house was demolished in December 2007 and we are getting compensation in 2013, there were ups and downs but we thank God," he stated.
Okeke, who got the lion share of N15, 680,000 said the compensation was only for the property as the land was not taken into consideration.
"They say they have a formula for deciding what to give us, my house was a two-storey building, according to the approval, they say they are not paying for the land, but the building on the land, so other property owners got compensation according to the value of the property and those who had their documents," he added.
The two other beneficiaries, Mrs. Esther Falodun and Alhaja A. Adegbenro got N5, 235,000 and N5, 635,000 respectively.
Short URL: https://www.africanexaminer.com/?p=5020