PPA Chieftain Blasts Kalu Over Attack on Gov. TA Orji
Latest News, News, News From The State
Friday, August 22nd, 2014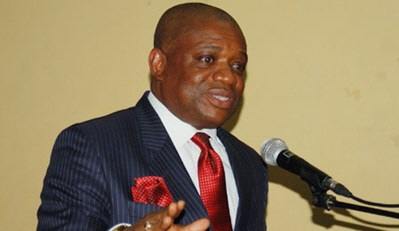 Factional deputy national chairman of the Progressive Peoples Alliance(PPA), Ogbuishi Benjamin Oborota, has described the recent press attack by former Abia State governor, Chief Orji Uzor Kalu, on incumbent Governor Theodore Orji as "myopic and an afterthought".
Reacting to Kalu's description of Orji as a chameleon, Oborota said the write up was "an expose to the shallowness of the former governor who maintained a chief of staff for eight years without discovering him."
He said it was disappointing that someone who prides himself as a master strategist could not uncover a chameleon in his cabinet for eight years, to the extent that he would recommend a chameleon to succeed him as governor. "This shows the daftness of the master strategist, and further confirms that his writings might actually have been authored by surrogates as suspected in several quarters," he added.
He said that Kalu's claim that he never knew the true nature of Orji was false because all persons who had any business to do in Abia State when the former governor held sway knew that the state would have collapsed on Kalu's head but for the then versatile chief of state, who is the current governor.
The PPA deputy chairman said that under Kalu, Abia State had descended to such decay that merit was thrown overboard in favour of "mamacracy where allegiance to the former governor's mother determined progress in appointment and the award of contracts."
He maintained that during the years between 1999 and 2007, Abia was under siege where governance was turned into a family business.
Oborota said that the assumption of office in 2007 by Orji staved the trend of political migration of Abians who had fled intimidation, kidnap, economic strangulation and assassinations to Abuja and Lagos.
He noted that Kalu fell out with Orji when his failed attempt to corner the state's monthly allocation was resisted by the latter, "which resulted in the unprecedented query of a sitting governor by a political party."
He expressed surprise at Kalu's blind claim that Abia had lagged behind during Orji's tenure, wondering when last the former governor visited the state.
He urged Kalu to visit Umuahia with the view to marvelling at the great transformation of the city centre where the dilapidated main market, auto spare parts market and the industrial estate he had ignored for eight years have been relocated and modernised, creating space for these massive developments currently ongoing.
Short URL: https://www.africanexaminer.com/?p=16586