Press Release: Cairo Ojougboh and The Limitation of Intelligence
Articles/Opinion, Featured Contributors/Columnists, Latest News
Saturday, November 4th, 2017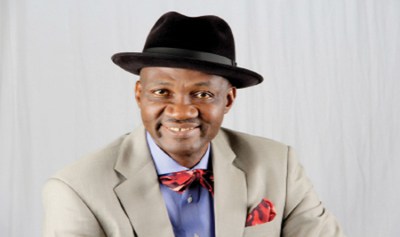 Photo: Cairo Ojougboh
(AFRICAN EXAMINER) – We have read the recent rant of Dr. Cairo Ojougboh, couched in what, in his convoluted mind-set is titled a press conference and we cannot stop laughing at the silly, childish and futile attempts of a once upon a time member of the respected Federal House of Representatives, posturing as a writer and social commentator.
First of all, we are amazed that a man who rose to the dizzying heights of Legislative prominence at the national level, vied with considerable mettle as a governorship aspirant, jostled with remarkable credentials for a senatorial seat, was appointed as a special adviser to the President, and was subsequently rewarded as a zonal leader of a the biggest political party in the black continent, would stoop so low to now address himself shamelessly as "Media coordinator, Delta APC Leaders Council" It is indeed mind boggling and beats all imagination.
In fact, as a medical Doctor by professional calling, which even now has been cast in some corresponding doubt, following the expose that he was a pathetically unintelligent student, one actually wonders if Dr. Ojougboh clearly and fully understands the gravitas and operational essence of the title: "Media Coordinator…", beyond the very pedestrian skill of crafting poorly worded press statements, brimmingwith empty propaganda, delivered in uncouth syntax and reeking of the warped, melodramatic pre-occupations of rationally dislocated rabble rousers.
Having woefully been disgraced, embarrassed and humiliated in his miserable efforts to become something important both in Delta State and the PDP, he has now clung and clutched his new-fangled weapon of reverse propaganda; the Delta budget, in the erroneous expectation that his drummed and trumped up half-truths and outright lies, would propel a groundswell of inquisition on a matter and document, which is more of an income and expenditure estimate cum projection than the conclusive commandment on which the government must be held accountable like a divine tablet.
The problem with people like Cairo Ojougboh, who have been fortunate to taste a modicum of power, maybe as a result of the oversight of those who ought to really control the levers of such privileges or perhaps due to the temporal unresponsiveness of the electorate at the time of his elevation, is that they soon begin to arrogate superior authority, which they could never have mustered in their uneventful lives, to themselves and on the intoxication of such assumed ego-centricism, proceed to drag the rest us down to the bestial levels of their brazen stupidity.
To put his rantings in clearer perspective, Cairo Ojougboh has raised spurious issues with the budget once again, but it is pertinent to
inform him here that those who know better than him in such matters have taken the pains to clarify the budget processes, the Paris club
refund, the DESOPADEC estimates and other sundry issues including the income and expenditure profile of the state's finances, in several meaningful Press Conferences and media briefings.
In the final analysis, Dr. Cairo Ojougboh's attention seeking antecedents and intentions, now that he has joined the All Progressives Congress, APC, are shamelessly exposed, when he calls on Deltans and President Buhari to intervene in a non-existent distressed
environment, which even the presidency and his fellow co-travellers in the APC are still finding difficult to locate and identify.
We are quite pleased to note that our party leader and dear Governor of Delta State, His Excellency, Senator (Dr.)  Ifeanyi Arthur Okowa, (Ekwueme) has quite succinctly and with effortless cerebral master-strokes, defined and packaged Cairo Ojougboh in the deserving compartment he truly belongs, without breaking sweat or overtly extending himself with superlatives to qualify a dullard and an academic simpleton, whose borrowed credentials have now been laid bare by the crude, uninspiring attempts to write a meaningful press release even.
For Dr. Cairo Ojougboh, we want to inform and assure him that the SMART Agenda is working perfectly and yielding an impressive harvest of burgeoning entrepreneurs through the YAGEP, STEP, PPSP, Micro Credit, Graduate Employment and other laudable, economy building and strengthening initiatives and collaborations in partnerships with the Central Bank of Nigeria and the global community.
We are very confident, unmoved and unfazed by the diatribes of Cairo Ojougboh, believing that his efforts are mainly driven by his intentions to be relevant in his new party and his laughable yet sympathetic self-imposed office of "Media Coordinator, Delta APC Leaders Council.
We wish him well but also wish to assure him that Delta State is PDP and PDP is Delta State.
Those who have ears to hear, let them hear.
IFEANYI MICHAEL OSUOZA
STATE PUBLICITY SECRETARY, PDP, DELTA STATE.
Short URL: https://www.africanexaminer.com/?p=41389