No Amount of Intimidation, Harassment Will Deter Me -Ekweremadu
Featured, Latest News, Politics
Monday, July 6th, 2015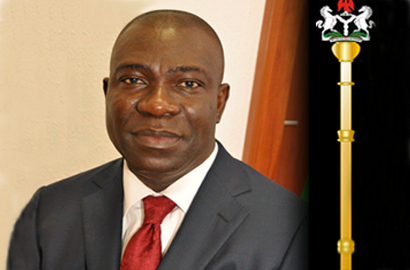 Ayodele Afolabi, Abuja – The Deputy President of the Senate, Senator Ike Ekweremadu, has said that no amount of intimidation or harassment will deter him from carrying out the constitutionally prescribed duties, which on June 9, 2015, PDP and APC Senators willingly elected him in the full glare of the world to perform.
Recall that President Mohammadu Buhari had said that Ekweremadu emergence as Deputy President of the Senate was unacceptable to him.
The leadership of the All Progressives Congress, APC leadership had also asked Ekweremadu to resign.
But apparently responding to these veiled threat and intimidation he said in a statement by his media aide, Uche Anichukwu on Monday that Ekweremadu has been receiving calls from well meaning Nigerians and members of the international community
"I received numerous calls and messages from well meaning Nigerians, elder statesmen, Governors, Distinguished Senators and Honourable Members of the House of Representatives across party lines, concerned members of the international community, youth and women organisations, royal fathers, and Civil Society Organizations, among others, who have continued to express utter dismay and concern over the unfolding drama in which his life and liberty are being threatened by desperate politicians.
"Senator Ekweremadu wishes to assure all Nigerians and concerned members of the international community that everything is under control and that all democratic steps are being taken to preserve the nation's democracy and protect the independence of the legislature.
"The Deputy President of the Senate further wishes to assure Nigerians that necessary steps are being taken by the security agencies to beef up security around him.
"He appreciates the nation's security agencies for their professional handling of the situation so far, and acknowledges with a deep sense of gratitude the numerous youths across the country who have volunteered to provide additional security around him.
"In all these, however, let it be known that no amount of intimidation or harassment will deter Senator Ekweremadu from carrying out the constitutionally prescribed duties, which on June 9, 2015, PDP and APC Senators willingly elected him in the full glare of the world to perform."
Short URL: https://www.africanexaminer.com/?p=24326