Racial Abuse: United Fans Call Balotelli "Monkey", Tell Him To "Go Get Ebola"
Crime Watch, Ebola News, Featured, Latest News
Monday, September 22nd, 2014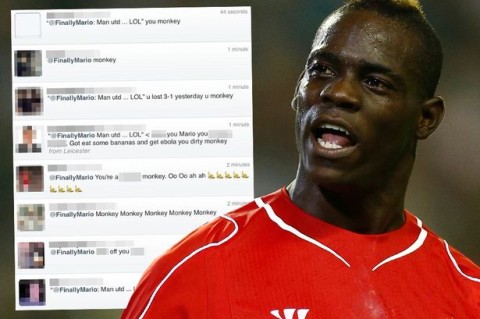 ..As Police Investigate Hate-filled Tweeters Who Targeted Liverpool Striker
Police are investigating after social media fans racially attacked Liverpool striker, Mario Balotelli after the Italian mocked Manchester United's 5-3 defeat at Leicester City on Sunday.
Hate-filled social media users targeted the Liverpool and Italy striker after he goaded the Red Devils fans with a tweet which simply read: 'Man utd … LOL.'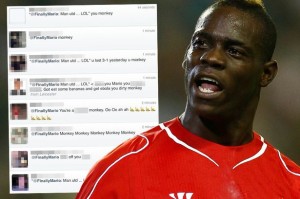 One vile tweeter, known only as iMonko, wrote: "Monkey, monkey, monkey, monkey, monkey."
Another, using the Twitter handle Maroc, tweeted: "You're a f*****g monkey. Oo Oo ah ah."
And one particularly disgusting tirade read: "@F**k you Mario you f*****g n****r. Go eat some bananas and get ebola you dirty monkey."
Many others came to Balotelli's defence and some screen grabbed and re-tweeted some of the vile messages, and forwarded them on to police.
The football equality group Kick It Out said in a message on Twitter that it was aware of the racist tweets directed at Balotelli and that it would be reporting the matter to the authorities.
Merseyside Police has since said it is investigating.
The force posted a message on Twitter, which read: "We can confirm officers are looking into offensive comments made on Twitter about Mario Balotelli earlier today."
Asked if they were launching an investigation, a Merseyside Police spokesman said "yes, we are", adding: "As far as I am aware there have been no complaints but we have been made aware of it by a number of press inquiries."
Manchester United led 3-1 at half-time before conceding four second-half goals in 21 minutes against newly-promoted Leicester.
Balotelli was joined by others from across the world of football left in disbelief at United's latest horror show.
Former Arsenal midfielder, now TV pundit, Paul Merson said: "Man Utd a Gillion miles away from winning the title."
TV presenter and Arsenal fan Piers Morgan tweeted: "To be fair to Van Gaal, he has brought in a new era at United – they're worse than I've ever seen them."
And former Leicester and England striker Gary Lineker simply said: "S*** on Man United!"
The controversial 24-year-old, born to Ghanaian immigrants in Italy before being fostered by an Italian family, suffered from racism throughout his career in Italy, and was even racially abused by fans at a national team training camp ahead of this summer's World Cup.
In April 2009, Inter president Massimo Moratti said he would have taken his team off the pitch following the abuse the 18-year-old received at Juventus.
And during the summer of 2009, he had a banana thrown at him in Rome in the city centre.
Short URL: https://www.africanexaminer.com/?p=17746