Search Team Predicts Missing AirAsia Plane Is At Bottom Of The Sea
Featured, Latest News
Monday, December 29th, 2014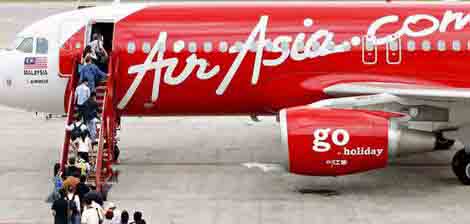 As the search for the missing AirAsia Indonesia flight QZ8501 progresses early hours of Monday, strong indication has emerged that the passenger aircraft is likely at the bottom of the sea.
The head of Indonesia's search and rescue agency, Bambang Soelistyo revealed at a press conference in Jakarta, the Indonesian capital that the hypothesis was related to the co-ordinates of the plane, which was made available to the team.
Soelistyo at the conference predicted: "Based on the co-ordinates given to us and evaluation that the estimated crash position is in the sea, the hypothesis is the plane is at the bottom of the sea."
The AirAsia Airbus A320-200 with 162 passengers on board disappeared early Sunday due to bad weather, while on a flight to Singapore.
Indonesia alone had 157 of her Nationals, while South Korea had three; Singapore and Malaysia had one each of their citizens on board.
While sensing challenges, the plane pilots reportedly asked permission from Jakarta air traffic control to change course, so as to climb above bad weather in an area known for bad thunderstorms.
But the approval was not given due to traffic. Another plane was said to be flying above the aircraft at the time of the request. The ill-fated plane then lost contact with the air traffic controller 5 minutes later.
Short URL: https://www.africanexaminer.com/?p=21124