Senate Moves To Limit President's Powers To Sack EFCC Chairperson
Featured, Latest News, News Across Nigeria
Wednesday, December 14th, 2022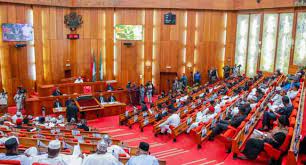 (AFRICAN EXAMINER) – A bill that seeks to limit the president's powers to remove the chairperson of the anti-graft agency, EFCC, scaled second reading at the Senate on Tuesday.
The bill seeks to amend the EFCC Act to subject the termination of the appointment of the chairperson of the commission to the confirmation of the Senate "in order to guarantee the security of tenure."
It is sponsored by the Senate Minority Whip, Chukwuka Utazi (PDP, Enugu North).
Leading the debate, Mr Utazi said one of the thrusts of the bill is the security of tenure for the chairperson of the commission. And to do so, he said, the Senate should be required to approve the removal of any chairperson by the president as it does in the appointment.
He said the National Assembly had ensured that the leadership of other anti-graft agencies like the ICPC and Nigerian Financial Intelligence Unit (NFIU) had the security of tenure by ensuring that their appointments and removal, as the case may be, were subject to the confirmation of the Senate.
"That was not the case with the EFCC," he told his colleagues. "Therefore, in this proposed amendment, it is intended to bring the EFCC in conformity with the other two anti-graft agencies of government. This will engender optimal performance by the commission of the very important mandate assigned to it."
He also said another proposed amendment is to restrict the appointment of the chairperson to EFCC staffers.
"As a new commission, it was understandable that its headship was appointed from outside of the commission, for obvious reasons," he explained referring to the EFCC. "However, the turning point of the commission came when this administration which has as its mantra in the fight against corruption, took the pioneering and audacious step by looking inwards, in the commission to pick the first Executive Chairman of the Economic and Financial Crimes Commission to head it."
While he commended the president for the move, he said all that is required of the legislature is to amend the EFCC Act to restrict non-trained EFCC staff from the headship of the commission, going forward.
This, he said, will enhance professionalism in the service of this anti-graft agency.
Short URL: https://www.africanexaminer.com/?p=83809