Video: Suntai Denies Granting Any Interview, Blames Opposition
Featured, Latest News, Uncategorized
Thursday, January 30th, 2014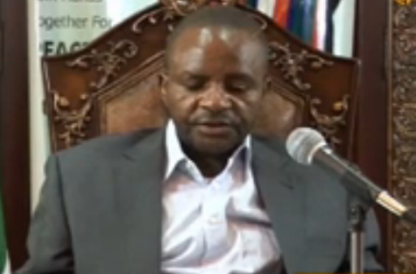 Agabus Pwanagba, Jos
The Secretary to the Taraba State Government, Timothy Kataps, an ally of the ailing Suntai has denied reports that Governor Danbaba Suntai has admitted that he cannot resume work, describing the video report as scandalous.
He said this in a press statement signed by the Secretary to the Taraba State Government and made available to African Examiner on Wednesday.
The statement partly reads:
"It should interest the world to note that most of the papers who reported that Governor Danbaba Suntai has admitted that he cannot resume work, did not get their story from their correspondents in Jalingo.
It maintained that, "their source was a video shown by a pressure group in Lagos to a collection of top editors. Again, this is dubious.
"We wonder if the Lagos based editors noticed the super imposition of voices on a funny caricarture of a video clobbered together by desperate politicians whom we know very well and who want Suntai removed from office by all means necessary.
"It is moronic for people who often say that Suntai's statewide televised broadcasts were stage managed, to come out now and say Suntai has announced he can't continue to govern via a video.
"If our videos are fake, what is the guarantee their own now is authentic?
'The same clan of desperate power mongers like to tell the world that Suntai can't even produce a speech or respond intelligently to questions.
"So how come the same Suntai is telling them he can't resume? Or do they only choose to hear what they want to hear?
"For the avoidance of doubt Suntai has not, at any point, granted such an interview to any reporter in Jalingo. If and when he grants it, it would be with known reporters and not a faceless reporter as carried in the tale.
"The video in question is desperate items, taken out of context, and manipulated to further an interest of deceiving Nigerians."
However, some commentators have challenged the Suntai camp to produce the authentic video to back up their denial.
Here is the video again in case you missed it:
Short URL: https://www.africanexaminer.com/?p=7789