Wenger's Mourinho Nightmare Continues, As Chelsea Manager Downplays Touchline Bust-up
Latest News, News, Sports News
Sunday, October 5th, 2014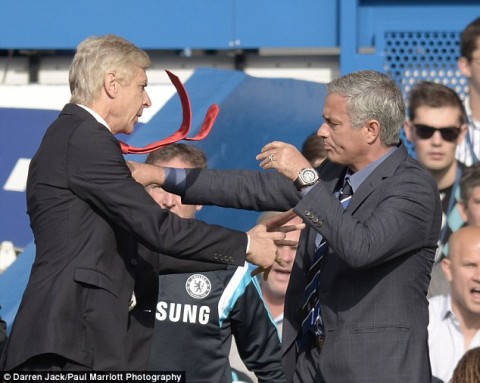 Arsene Wenger lost the plot after Jose Mourinho's unbeaten run against Arsenal increased to 12 games after Chelsea's 2-0 victory at Stamford Bridge.
The Arsenal manager, says he has no regrets for the shove on Mourinho when his incredible Barclays Premier League clash erupted after just 20 minutes.
''I don't regret it, what is there to regret? I want to go from A to B and someone (Mourinho) confronted me before I got to B without any sign of a welcome.'
It's the longest-running feud in the Premier League… but where did it start?
Chelsea took the lead when Eden Hazard scored with a penalty and former Arsenal midfielder Cesc Fabregas set up Diego Costa for his ninth goal this season.
Wenger claimed Gary Cahill should have already been sent off for the foul on Alexis Sanchez that provoked the flare-up between the two technical areas.
The Arsenal chief, whose side are now a staggering nine points behind league leaders Chelsea, also claimed Oscar and Branislav Ivanovic should have been sent off.
Wenger will face no further action from the FA because it was dealt with at the time by referee Martin Atkinson and fourth official Jonathan Moss.
Meanwhile, Jose Mourinho downplayed his first half touchline bust-up with Arsenal manager Wenger by insisting it was 'no problem'.
Asked about the incident, Mourinho said: 'For me, it is over.
'But the technical area is very clear – I have mine, he has his and he cannot come to mine, especially to put pressure on the referee to give a red card to my player.
'So I just told him "leave my technical area and don't come back please".'
Short URL: https://www.africanexaminer.com/?p=18333