We've Made Impact On Security, Economy, Corruption—Buhari
Featured, Latest News, News Across Nigeria
Thursday, June 16th, 2022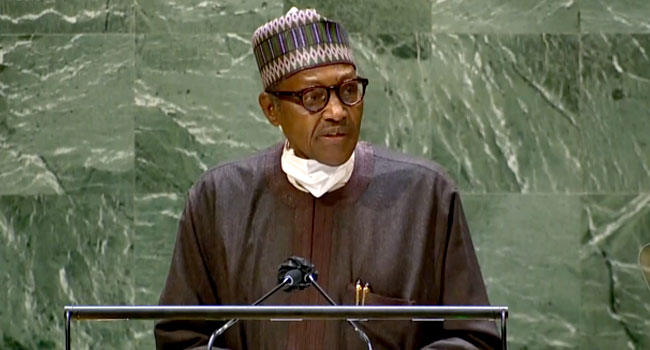 —Urges Police To Deploy More Technology
(AFRICAN EXAMINER) – President Muhammadu Buhari in Kano said three priorities of the administration, security, economy and corruption, have received significant attention, with measurable results, following his vision 'of making Nigeria more peaceful, prosperous and reliable, among nations.
At the Passing out Parade of the Regular Course 4/2016 Cadets of the Nigeria Police Academy, Wudil, the President noted that policies and actions of the government made impact on the tripod vision, in spite of challenges, assuring that more would still be done to safeguard lives and property, enhance livelihood and ensure probity.
"As you are all aware, this administration came to office determined to make impact in three main areas: security, building a sustainable economy and fight against corruption. We can say that recent positive developments in these areas have shown that despite the challenges on ground, we can see general improvement in all three areas.
"In the area of corruption, as you are all aware, I am determined to ensure that we do not have a repeat of what has gone on in previous administrations and we have taken a strong stand against pervasive corruption.
"This administration has also focused on security by repositioning our national security to perform their duties effectively. We have equally embarked on some crucial changes in their funding, structure, and modes of operation. With the launching/empowerment of the Police Trust Fund, this administration swung into action after taking the assessment of needs for possible interventions in the provision of logistics and infrastructural needs of the Force,'' he said.
In a fast changing world, driven by digital technology, Buhari stressed that the Nigeria Police must continually evolve on its structure and operations to make greater impact in checking crime, particularly in the virtual space.
"In a world where insecurity is constantly evolving; law enforcement responses have to equally evolve not just to keep up but to stay ahead. Also, as part of efforts to modernize the Nigeria Police Force, this Administration has intensified both international and local training and retraining of our officers and men in addition to providing new platforms and other resources.
"These approaches have yielded positive results as it is glaring that Nigeria's ranking has improved on the world Counter-Terrorism global index from 4th to 6th position on the list of the most terrorized nations.
"This administration has signed into law the new Police Act to ensure an improvement in the welfare of service delivery to meet best international practices. As
I said earlier, with the take-off of The Police Trust Fund, there has been an upgrade of infrastructure such as the construction of new barracks across the country, renovation of existing ones, construction of medical facilities, as well as procurement of modern operational vehicles.", he added
According to the President, the Boko Haram insurgency, the Indigenous People of Biafra, Eastern Security Network, and banditry in some parts of the country over time, which posed a potent threat to the country, had been significantly degraded and relative normalcy had returned to most towns and villages.
He said more efforts would go into ensuring that normalcy returns to all the areas suffering banditry.
Short URL: https://www.africanexaminer.com/?p=77965