Nancy Isime Breaks Silence On Nude Scene In 'Shanty Town'
Entertainment News, Featured, Latest News
Wednesday, January 25th, 2023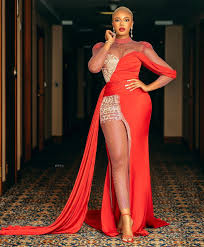 (AFRICAN EXAMINER) – Nollywood actress, Nancy Isime, has spoken about a controversial scene in 'ShantyTown', a newly released movie.
'Shanty Town' made its debut on Netflix on Friday.
The project is about a group of courtesans (prostitutes) who want to break free from the control of an infamous kingpin. But they soon realize that doing so will be extremely difficult because of political corruption and blood ties.
Shortly after its release, however, Isime came under fire on Twitter.
Many users had faulted a scene where she appeared to be almost naked with her buttocks and breasts seemingly on display.
But reacting in an Instagram post, the actress said it was not her body that was on display in the movie.
The film star and TV host said a body double was used for the scene.
A body double in movies refers to a person on set who is used to pose as another actor. It is usually adopted for scenes, such as nudity, where the main actor is unwilling to do.
The role is often played by models and their faces are usually concealed.
"Simmer down horny boys and girls. I know those gorgeous body parts excite you but they sadly belong to my beautiful body double," she wrote.
"Mine aren't that succulent. Enjoy our beautiful masterpiece, get the message from each scene and Focus on the right Focus!
"Thank you so much for all the amazing reviews so far, I'm so glad y'all are watching and loving Shanty Town."
Short URL: https://www.africanexaminer.com/?p=84788