What Wike Forgot About Amaechi
Articles/Opinion, Uncategorized
Saturday, July 6th, 2013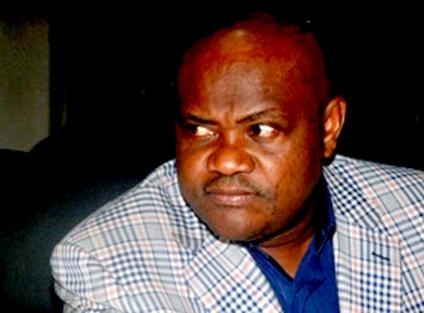 Barrister Ezebunwo Nyesom Wike is the Minister of State for
Education. He seems to have circuitously ditched this
appointment. His combatant attitude in the smeared politics of
Rivers State, buttresses this fact. His incessant appearance in the
media, but in warring features, no longer portrays him as a
diplomat, but as a dirty politician who casts the die and goes for
the kill. Diplomats are known to diplomacy in any of their dealings,
but Wike is farfetched from this reality. He rather prefers to open
his mouth and talk riotously and beat his chest and boasts of
playing politics.
Reading the Saturday July 6, 2013, edition of The Sun, where
Barr. Wike opened his mouth and talked like the 'small boy' that
he repeatedly said that Governor Chibuike Amaechi of Rivers
State was addressing him as, reminds one that not all grown
people are adults. It could be a thing like this that moved Amaechi
to be calling him the alleged 'small boy'. It is not a venomous
attack when a man who is well respected opens his mouth and
talks like an inexperienced kid. Anyway, it is only in politics that
stupidity is not regarded as a shortcoming. If not, the pointless
political battle which Wike has brought upon Rivers State ought
not to have occurred.
As a Minister of State for Education, is it part of delivering the
dividends of democracy for Wike to fight his state governor? What
is this scenario creating in the international community? Would
the international community see Nigeria as a country where there
are gentlemen representatives or gangsters'? It is unbecoming of
a man of that status to make majority of his matters in the on-
going political imbroglio in the state a press matter; although, as a
lawyer, he knows better. Just chatting.
Persons of class do not open their fangs of debris in interview;
they tell the world through issuance of press releases and wait to
give a valedictory lecture about all the 'truths' and 'lies' against
them while in a public office. Professor Niyi (Osundare) gave one
of such world-acclaimed valedictory lectures about the does and
don't, bickering and brickbats, image and margin he experienced
in the University of Ibadan when he was leaving the school for the
New Orleans in the United States. Authorities do not rise against
authorities when work is in progress. It is not gentlemanly.
Wike never gainsaid that it was not politics that brought Amaechi
and him together. That was in 1998 or 1999, under former
Governor Peter Odili, who ruled Rivers State. But between 1999
and 2002, Wike said that he was the chairman of Obio/Akpor
LGA. The Minister didn't just become the LGA's chair. He became
chairman by the help of Amaechi when the administration of that
time wanted to shortchange him for someone else for the plumb
job at the Obio/Akpor LGA. Amaechi was Speaker of the Rivers
State House of Assembly then. Are the records not there?
It is unflattering of Wike to say that people easily forget
'yesterday' and that people also are good in paying 'bad' for
'good' because of selfishness. And, you wonder if he was the one
who forgot how Amaechi helped him to become Chairman of
Obio/Akpor or someone somewhere. Yes, people forget easily. It
is, however, the duty of Wike to check his conscience very well
about his relationship with Amaechi before presenting the world
with these irrational political abracadabras in his home state. It
could be on this premise that whoever he was saying that
branded him a betrayer was bent on using that word. It is either
Wike faces his Ministerial job or resign and become an activist, in
lieu of saying that he was fighting Amaechi because he is always
on the side of 'justice' and rule of law in the leadership tussle of
PDP in the state.
How did Amaechi want to own the party? Even in the political
crises that have been tormenting the state, has Wike not ascribed
Amaechi as the leader of the party in the state? Did Wike not say
that Amaechi represents change you can see? And this is the
popular opinion of people in the state.
Okay. Let's assume that Wike has now become the leader. Is a
leader expected to be a servant or a warrior? If people begin to
brand Wike in these crises, no one is sure how many names he
would get out of the 'betrayer' that he said someone was
addressing him as. He might have fought Amaechi's battle for the
governorship position in the state in 2007, but did that not
translate to paying back to Amaechi what he did for Wike for the
later's emergence as the Obio/Akpor LGA chairman which was a
springboard for whatever fame Wike thinks he has today. When
we say that we are standing on the side of the 'truth', let's not
forget to dine, drink and tell the truth.
In earnest, there was no presentation of details in that interview.
What Wike did was to tell a fraction of the story to attract people's
sympathy. Why? It was not wrong that Wike stood on truth,
according to him, when Amaechi actually had the mandate. But
this is not only the fact that Wike have to tell the world about his
once harmonious relationship with Amaechi. The governor also
helped him to become the Obio/Akpor LGA chairman.
One problem with some persons is that they like saying things to
attract self-pity. If not, what was the meaning in the statement by
Wike about a particular incident he said that took place in London
where security operatives tracked and wanted to pick up two of
his persons that worked with him for Amaechi. He also said that
during that period he stood by Amaechi and never gave away his
secrets. So, is this the time to give away secrets? Hooey!
Let us not delve into many self-indulgent comments by Wike, but
the truth is that he wants the Rivers State which he said that he
laboured for to retrogress to the era when hoodlums took over the
state and were calling the shots in an excuse of militancy.
Wike had claimed in the interview that there were five
assassination attempts on his life in the cause of supporting
Amaechi for governorship in 2007 and that he lost his driver in
one of those attempts. The question now is who were those
behind the assassination attempts on Wike? Could it be those
who were fighting on the side of Omehia? Or, could it be their
master, Odili? Or, could it be that Wike plotted his assassination?
Or, better still, could it be that Wike fabricated the story?
Otherwise, how can Wike explain his new found romance with Odili
and Omehia? Has Wike gone back to his vomit?
Does Wike also want Amaechi to be attacked in the cause of
being a governor? So, old friends are no longer gold? Amazing.
Saying that Amaechi wanted to be Tinubu in Rivers State, could it
be why Wike has been fighting hard to wrestle that position since
he said that as "a minister, the governor cannot accord me little
courtesy because he is chairman of governors' forum, he is
everything". Let us not believe that envy is at play.
Wike has been a proponent of Ikwerre North and Ikwerre South
political divide. He has been pushing that Gov. Amaechi is from
Ikwerre North and it will be the turn of his Ikwerre South after Gov.
Amaechi's tenure of office. Is it not why Wike is fighting Amaechi
so that he will take over, but using the presidency as a cover? Is
Wike not thinking that all the residents of Rivers State are
optimally stupid and that he can fool everybody? We can see that
Wike is not fighting for the public, but for himself. So, Wike can be
seen as a fake apostle of 'justice' and 'truth'.
Governor Amaechi might not be hundred percent good. But he
was elected and, the minister was appointed. So, you can see
where the problem lies: Lack of loyalty. Any appointee who
challenges the authorities of his or her employer would be seen
as a 'small boy or girl'. You cannot say because you helped the
owner of a company to erect the structure, therefore you are
equal with the owner when the company becomes functional. Yea,
friendship cannot be forgotten, but in an instituted organization
where there is hierarchy, there is also protocol.
Amaechi might not be one hundred percent transparent in the
business of governance, but we can see the type of transparency
that is in Wike's dictionary, which are Wars. Let us remind Wike
that one does not need to play role for a leader to be appointed
for a job. He was asking for the role played by persons that
Amaechi appointed into his cabinet during 2007 elections. Can we
now know and see who is actually selfish? No. In a transparent
government, people are appointed into positions because of good
recommendations they have garnered.
It was obvious that it's not only Wike who fought for Amaechi, but
he is the only one complaining deficiently today. Why? Was he
telling us that he was the only one who was not fully compensated
and others were really compensated? Can we now differentiate
between greed and politics? Wike says that Amaechi sits as a lord
of the manor and you wonder what who dethrones this Lord
becomes. If Wike says that Amaechi wants to remain in Rivers
State as the lord, then he is fighting to remove Amaechi so that he
becomes the lord. Are Rivers people calculating?
People should not allow themselves to be manipulated by
insatiability. Wike said that the faction of the executive of the party
in the state came to receive Mr. President on Friday, June 28 at
the Port Harcourt airport, while in his jaundiced thinking the
governor was in Lagos with his APC friends for Fashola's
birthday. Must Wike blackmail Amaechi to the president anytime
he wants to make a statement? What a cheap way of currying
favour!
Contrary to the claim by Wike that he made Amaechi governor in
2007, persons like OCJ Okocha who just celebrated his 60th
birthday have rebuffed that. Was there anytime that Amaechi
nominated Wike as Minister to go and fight Mr. President? This
was the question that Wike had asked, perhaps, to draw the
president's sympathy and hide under him to 'deal' with Amaechi.
Let us now ask Wike: Did Gov. Amaechi nominate him as a
federal minister to fight Rivers State and her government? What is
Wike doing about the Rivers State oil wells that have been ceded
with impunity to Bayelsa and Akwa Ibom States? As a federal
minister, is Wike not supposed to talk about it? Is it not in this type
of matter that a true apostle of justice and truth would speak up?
We are seriously waiting for Wike to tell us the 'truth' about the
government he once served as its Chief of Staff. His 'truth' should
not be his tales that, "In Rivers State, when bottle breaks, they
wouldn't say it was bottle; they would say it was dynamite. When
they see dynamite, they will say that they saw missile, and all must
be aligned to Wike…" Is it not myopic when a man like Wike feels
that he is the only person in Rivers State who knows the
difference between the sound of a bottle, dynamite and missile?
(Pride at work). It means that Wike is calling all of us liars. This is
very unfortunate
Odimegwu Onwumere, a contributing Correspondent to Pilot Group,
contributed this piece from Port Harcourt. Tel: +2348032552855. Email:
apoet_25@yahoo.com
_______________________________
Support African Examiner's Free Journalism. By making a little donation, you are ensuring this site is free for all; you are also helping us to stay afloat and fulfill obligations to our reporters and other service providers: Thank you for your supports.
Send donations to:
AFRICAN EXAMINER LTD, 1016408743, UBA
AFRICAN EXAMINER LTD, 2028842299, First Bank
AFRICAN EXAMINER LTD, 1012873398, Zenith Bank

For Enquiries send text to: +234.809.111.3268, +1.443.904.1239
Short URL: https://www.africanexaminer.com/?p=698