2016 Budget: Group Calls For Overhauling Of Budget MDAs; Suspects Fowl Play
Latest News, News
Friday, February 12th, 2016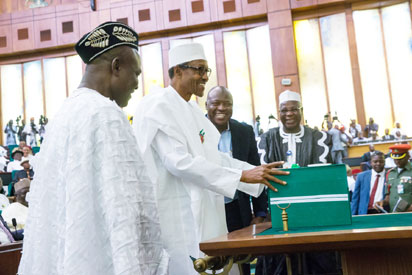 Following the persistent complaints of inconsistence that have since trailed the 2016 Appropriation Bill, the Muslim Rights Concern (MURIC) has called for the immediate overhauling of all government departments and units (MDAs) associated with the preparation of the proposed financial statement.
MURIC in a statement issued in Lagos by its Director, Prof Ishaq Akintola demanded that the alleged budgetgate must be probed and the culprits must be punished according to the laws of the land so as to serve as deterrent to others.
The organization stressed it was deeply worried by the controversy trailing the year's budget proposal, lamenting that the group was "nonplussed by the revelations emerging from both the Presidency and the NASS". He alerted that there was strong evidence of sabotage, a development he alleged was a confirmation of corruption fighting back.
"It is obvious at this point, even to the blind, that there has been an age-long practice of siphoning the nation's resources into private pockets through the doctoring of the budget on an annual basis. The irregularities in the budget proposal may also be traced to the landmines laid by the past regime with its zero hour recruitments and appointments.
"The budget department in the Ministry of Finance cannot claim ignorance of this fiscal inexactitude. Accounting error emerging from such a sensitive unit of government is unprofessional. It smirks of gross ineptitude and it should not go unpunished. The Federal Government needs powerful pesticides to exterminate the budget parasites" MURIC demanded.
Speaking on shifting of the date to pass the budget, the group stated the development would have a far-reaching effect on the nation's economy, adding that more worrisome was the attendant bandwagon effect on the jamaaheer (masses) who it bemoaned, would certainly bear the full brunt of the delay.
"This is corruption fighting back and dirty. It will be recalled that the Ministry of Health had also cried foul over the contents of its own allocations in the proposed budget.
"MURIC strongly suspects that fifth columnists are actively engaged in a bitter and desperate battle to re-open the drain pipes which the new regime has been struggling to block" MURIC alleged.
Please follow and like us:
Short URL: http://www.africanexaminer.com/?p=30148