4 More Nigerians Survive Ebola, Discharged
Featured, Latest News, News
Monday, August 18th, 2014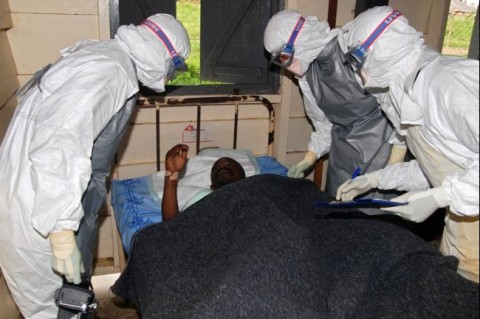 …As 3 More Suspects Under Surveillance
Ayo Balogun, Lagos
It was a cheering news monday as another four Nigerians infected with the deadly Ebola Virus Disease (EVD) survived the disease and have been discharged from the Isolation Centre in Lagos, Nigeria.
This brings to five the number of infected Nigerians that have so far been discharged from the Isolation Centre after subsequent tests carried out on them proved negative.
Briefing newsmen on Monday evening at the Infectious Disease Hospital, Yaba, Lagos on the new development, Lagos State Commissioner for Health, Dr Jide Idris confirmed that four more people who survived the disease were discharged on Monday.
He said out of the eight people in the Isolation Centre, one was released on Sunday while four would be released today (Monday), making it five people that had so far survived the disease, adding that only three patients were now remaining at the centre.
Idris said so far, 12 people were confirmed infected with Ebola in Nigeria, including the index case and three Nigerians that had died of the disease, leaving eight people at the centre out of which five had been discharged.
The commissioner explained that before Ebola patient could be discharged, such a person must have been symptom-free for three days and tested negative to the disease in line with the World Health Organisation (WHO) standard..
He said the four patients  discharged were symptom-free for three days and tested negative to the disease.
Idris added that the patients discharged would have to be coming for periodic check-up.
He disclosed three new  suspected Ebola cases were being monitored and placed on surveillance to see if they would devclop symptom of the disease.
Idris said two of the new suspected cases were from Lagos and had primary contact with the late Patrick Sawyer while the other one was a sample brought in from Kaduna to be tested as there was no testing facility in Kaduna State.
He aslo said currently, eight doctors, nine nurses and some health workers, fully trained who attend to patients at the Isolation Centre.
"We have infectious disease experts who have joined them from LASU. The training of people to work at the centre is rigorous. If you go into the Isolation Centre, you cannot come out from the door you came in, you exit through another doorn" he said.
Sent from my BlackBerry® smartphone from Etisalat. Enjoy high speed mobile broadband on our easyblaze and plans for BlackBerry. Visit www.etisalat.com.ng for details.
Please follow and like us:
Short URL: http://www.africanexaminer.com/?p=16372