IPOB Dares Nigeria Army; Launches Own Operation David Dance
Featured, Latest News, News
Wednesday, December 7th, 2016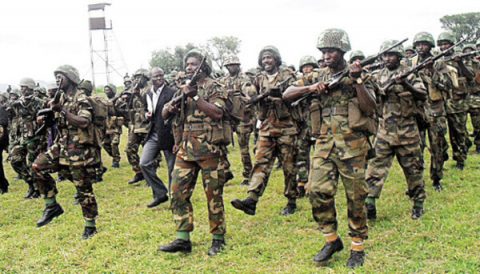 By Ignatius Okpara
ENUGU NIGERIA, (AFRICAN EXAMINER) – Barely a week the Nigerian Army launched the "Operation Python Dance" to check activities of criminal elements in the South- East Nigeria during the Christmas season, the Indigenous People of Biafra (IPOB), says it has also launched its own Operation"David Dance" aimed at disgracing the Nigerian Soldiers in the battlefield.
IPOB likenes the Operation to what happened between David and Goliath in the Bible, where king David humbled a tough warrior as Goliath.
The group said "we have launched our own Operation David Dance" which is recognised by God Almighty in the Bible, It was used by King David to dance against Goliath and all his bragging at the battle front.
IPOB however urged all who believes in the Biafran struggle to avoid any act capable of making them clash with the Operation Python Dancers.
The group claimed that it has discovered a grand plot by the Nigeria military to kill more South East people in the name of providing security to the people of the region.
This was made known in a statement issued by its Media and Publicity Secretary, Mr. Emma Powerful, on Tuesday.
The statement read thus: "We are also aware that the world knows that the annual report from Amnesty International against the cold blooded killing of unarmed members of IPOB in Biafra land by the Nigerian security agents is correct and even the soldiers know that the report did not reveal details and other atrocities of the blood thirsty soldiers
"Our Operation David Dance will do to the military what David did to Goliath in the battlefield.
"The only difference is that we are not using weapons, but the spiritual warfare backed by Chukwu Okike Abiama meaning (God Almighty) that disgraced them with the Amnesty International report.
"The world will never stop blaming them for killing innocent civilians and this is now gathering momentum around the world. That is why they are running to cover the crime committed in a broad daylight."
Meanwhile, the Nigerian Army has dedicated some telephone lines to the South-East by way of modifying Operation Python Dance in the zone.
The development AFRICAN EXAMINER gathered is as a result of the sharp criticisms that have continued to trail the Operation Python Dance since its lunch.
The Acting Director, Army Public Relations, Colonel Sani Kukasheka Usman, in a statement urged the public to call any of the dedicated GSM lines for information and help during its operation in the south east.
"The general public is hereby requested to please call any of the following dedicated GSM phone numbers for any information or request for help during the ongoing Exercise Python Dance in the South-East :
"Headquarters 14 Brigade, Ohafia, Abia State— 07068688482.
"Headquarters 302 Artillery Regiment, Awka, Anambra State— 07011115583.
"Headquarters 24 Support Engineer Regiment, Abakaliki, Ebonyi State —09053974736.
"Headquarters 82 Division Garrison, Enugu, Enugu State —08063282844.
"Headquarters 34 Brigade, Owerri, Imo State— 08171609638 and 08065642870."
Short URL: https://www.africanexaminer.com/?p=36823