ANALYSIS: Alex Badeh's Belated Assertion; Another Big, Moral Burden To Opposition PDP
Featured, Featured Contributors/Columnists, Latest News
Friday, August 7th, 2015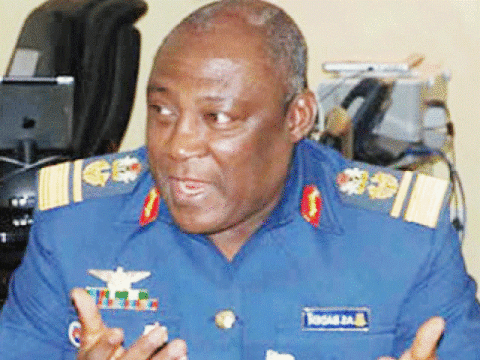 By Tajudeen Balogun, Head, African Examiner, Nigeria Bureau – If it is the utmost desire of the opposition PDP members and their supporters to endlessly and ruthlessly politicize, as well as trivialize every issue relating to the present administration, they are very much at liberty, with respect to their choice. Also, if it is their wish, that they keep pretending, deceiving and impressing themselves on the National issues as related to their rivals – the ruling APC and its members, they are as well entitled to their chosen way. They might, if they so desire, throw up parties at their convenience, to mark and celebrate becoming 'sleepless and reactionary' members of the opposition party. But despite all of these, they must be cautioned and hinted once again, that Nigerians are not dummy – have facts of virtually every critical and crucial National issue, concerning the immediate past administration; therefore, there is no hiding place for them, hence, the reason why they must seriously review how they play the new role they recently assumed. That is by choice anyway.
For instance, the PDP members have severally attempted to score cheap points (before the May 29, handover and till moment) on the war against the Boko Haram insurgents. The party's Chieftains have clamoured that the opposition deserved to be given the credit, for conquering the terrorists and argued that the present government had not made any meaningful impacts; in fact at a point, alleged that the anti-terrorist battle since the inception of President Muhammadu Buhari has failed and degenerated from bad to worst.   
Despite these, the fact (about failure) the PDP members and supporters could not shy away from, is another shameful confirmation, made last week by the immediate past Chief of Defence Staff (CDS), Air Marshal Alex Badeh that the Military was not adequately and properly equipped to tackle the Militants! This is a very sensitive point many Nigerians have made in the past. It is an obvious fact and if the opposition denies and plays politics with every issue with this Government, it cannot on Badeh's recent damning comment.
It's only in Nigeria and by extension Africa, that top political and career office holders consider it impossible to toe the line of honours, at a very critical moment. Unlike in other climes, where government officials and professionals resign their appointments, at a point, attempts are made to undermine or being forced to compromise their professional ethics and values, record of such instances are almost nil in Nigeria and some parts of Africa.
Certainly, Badeh's belated and immoral assertion on poor state of affairs of the soldiers battling the insurgents in the North Eastern part of the country, could hardly be appreciated and taken seriously, just as so many Nigerians including the troops themselves, have earlier spoken, complained, lamented and advocated for quick intervention, still, the former CDS was not heard and never perceived to be on the side of his men and masses.
It would be recalled the troops deployed to Adamawa, Borno and Yobe States early March, 2014, were reported to be lacking proper welfare and adequate moral support on the battle field. The soldiers were quoted at a point to have confessed that the situation was so startling, to the extent of resorting to use personal money to buy medication as well as kitting themselves. The shocking revelation at that critical time was reported prominently in both local and international media.
Many Nigerians will not forget so soon, the sack in March this year, of the immediate past Chairman, the Subsidy Reinvestment and Empowerment Programme (SURE-P), Gen. Martin Luther Agwai. The retired Army General, given the porous and alarming security situation in the country, justified Nigerians' clamour and resolve for change in government, while delivering lecture on "Imperatives Of A National Security Framework For The Development And Progress Of Nigeria" at the last birthday celebration of former President Olusegun Obasanjo in his Abeokuta, the Ogun State capital.
Recall too, my analysis, posted Friday, September 2014 with the title: "Sanity Until justice Is Done". In the piece, I posited that the conviction (death sentence) slammed on 12 out of 13 soldiers (of the overall 25 originally court martial) was lopsided and unjustifiable. My reasons then were similar to an instance of a parent who failed to prepare his ward for an external examination, yet expected a good result. Another direct example, is the case of an employer who could not motivate and inspire his workers to work for the goals of the organization, yet expected magic, in terms of productivity and good results; such a parent and an entrepreneur at best, could be described as a joker and being frivolous.
The question is where was Badeh while the persistent and deafening public outcry lasted? Why he was not so courageous to speak up, damned the consequences and corroborated and stand in defence of the convicted soldiers on the reasons they were punished? Why did he, as the CDS and his colleagues (just Retired Service Chiefs) kept feeding the public with false information on the state of things in the Military with respect to war against terrorists, during the last administration? What has the opposition PDP and its ever 'busy bodies' members got to say on the 'criminal' revelation? Won't the PDP members with the latest, be careful and subsequently mindful of their critique of the present government? And as I have previously asked, does the PDP as a political party and its members have the moral right to criticize or attack any government on lack of competence and focus, after their 16 years of failure in power?
There is doubt that, with his recent unimpressive revelation, former CDS Badeh and his colleagues as it has been repeatedly argued, conspired with the last administration in deceiving the public on anti-Boko Haram operations as well as "defraud" the Military and country's Defence in general.
On account of this, no matter how sincere and committed he might have attempted, Badeh and his outburst which has been trending unabatedly since last week, on different media platforms (on and offline) cannot be considered to be patriotic, nor informed by any national interest. Obviously, the man to the discerning minded individuals, only did what many in his
shoes, have done in the past, ultimately, to seek public attention and sympathy; realign himself with the government in power, for the future (political) calculation and favour.
Therefore, regardless of his right to belong to any political organization of his choice, the ruling party and its members must be very watchful of this yet another controversial retired Military officer, especially about their relationship with him and most importantly, consideration for engagement.
Above all, Air Marshal Badeh's declaration as useless (although true) as it appears, should not be taken with a pinch of salt or passively. In essence, he must be summoned, properly and thoroughly investigated, especially on the expenses of Defence; the killing of soldiers and civilians due to lack of proper motivation and inadequate equipment; soldiers' mutiny and dragged anti-terrorists operations under his watch as CDS.
With his late admittance, it is no more debatable (except among the opposition stalwarts) that the convicted soldiers were indeed victims of corrupt system and incompetent and reckless leadership!
So, the first set of the army and those later convicted for committing mutiny must immediately be given the privilege to have their case reviewed, with a view to making the Military authorities and Federal Government to grant them freedom; compensate them for damages done to their persons; pay their dues and benefits as well as reinstate them into the Nigerian Military service.
Finally, President Buhari and his government must be watchful and vigilant, so as to avoid occurrence of similar situation (indiscipline and lack of accountability) especially now that financial aid and other kinds of good support are coming from the Western part of the world and still being sought from the neighbouring countries, to win the war against the dreaded insurgents. Mr. President I am convinced is fully aware it was the same challenge (lack of trust) on the part of the last administration, that it failed to get the support and cooperation of the same countries now indicating keen interest and willingness to rid Nigeria of dreadful militants, who have tormented the North Eastern part of the country for too long of a time, with massive human and material loss.
E-Mail: tjaysuccess10@gmail.com; Facebook: Tajudeen Balogun; Twitter: @tjaysuccess10
Please follow and like us:
Short URL: http://www.africanexaminer.com/?p=24725