Fani Kayode Denies Receiving N1.7 Billion From Jonathan, Dasuki
Featured, Latest News, News
Wednesday, January 6th, 2016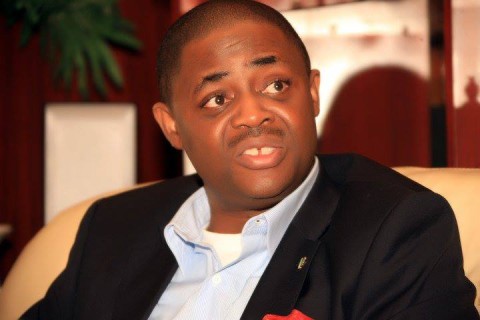 Baltimore, MD (African Examiner) –  Former Minister of Aviation and Director of Media and Publicity, Jonathan/Sambo Campaign Organization, Femi Fani-Kayode (FFK) has declared he and his opposition party PDP did not receive a dime – public funds from any government official or office to run campaign, during the last Presidential election.
FFK made the declaration Wednesday while reacting to allegation of receiving the sum of N1.7 billion cash from the immediate past President Goodluck Jonathan.
In a statement by him, FFK stressed he was very confident about the declaration he made, stating that his denials were facts and he was eagerly await his "accusers, persecutors and detractors".
"I have never received one kobo from President Jonathan himself, Colonel Dasuki or any other member of President Jonathan's government. I have not ever been in receipt of any public funds and neither was I the beneficiary of any payments in cash, transfer, cheque or otherwise from any government official during the tenure of President Jonathan.
"As Director of Media and Publicity of the Jonathan/Sambo Campaign organization I received money on behalf of the Directorate of Media and Publicity which I headed from private individuals and companies during the election campaigns but these were not public funds but rather private contributions specifically for the Presidential and other campaigns.
"Such moneys were transferred into my account by the Director of Finance of the Presidential Campaign Organization and that account was SPECIFICALLY set up for the purpose of running the publicity and media aspect of the campaign for the whole country and my Directorate.
"These private individuals and companies paid their contributions into a designated account which was provided and controlled by the Director of Finance and from there she transferred it to the accounts of the various Directors and various individuals that were running for public office that the PCO supported" FFK indicated in his reply.
He disclosed that the money that was sent to him for his Directorate by the Director of Finance was used in a "lawful and responsible manner and by the time the campaigns were over my Directorate had paid all of its bills for services rendered and was not owing any media house or anyone else one kobo".
FFK also indicated that the private individuals and companies that were kind enough to support and fund former President Jonathans presidential campaign with their "hard earned money were perfectly within their rights to do so and they were more than happy with our efforts as well".
He insisted: "Not one kobo of public funds was spent by or given to my Directorate during the campaign and as far as I am aware not one kobo of public funds was spent by or given to the PCO. Presidential campaigns all over the world cost huge amounts of money and Nigeria is no different.
"This is especially so when it comes to publicity and media. My Directorate was difficult to run and our work was capital intensive. We did not use marshmallows, pebbles, and grass to pay for all the services rendered to us and all the television and newspaper adverts were fully paid for with money.
"Nothing was done or given to us free of charge by anyone. This should not be a surprise to anyone as the APC and President Buhari's campaign organization did the same".
The former Minister confessed he opened an account specifically for the funds that were used to run his Directorate and fund all its activities in order to ensure accountability and transparency.
He queried: "Since when such matters have become a crime or subjects of criminal investigations I don't know. If it was a crime to speak up for Jonathan during the campaign they should just say so".
Fani-Kayode contended if it is a "crime to be a member of the PDP and to be in opposition they should just say so. If it is a crime to speak up for and defend President Jonathan and key members of his government after he has left office they should just say so.
"If it is a crime to oppose the Buhari administration and speak up against his gross violations of human rights that they are indulging in and the violation of court orders they should just say so".
"I am particularly proud of the efforts of my team at the Directorate and I can assure all those that care to listen and that refuse to be misled by the government propaganda machine that we did nothing wrong. All we did was run an effective campaign and we did so with private funds and not funds from the government.
"I am aware of the attempt by the government and my enemies to discredit me, smear my name and silence me by alleging all manner of wrongdoing but I am not in the least bit perturbed. As always my innocence will fight for me and my God will never forsake me.
"I know that this government is capable of doing anything, of inducing anyone to say anything and that they have no sense of decency, justice or fair play. They are prepared to charge anyone just for breathing the air if needs be and they can attempt to frame up anyone that they believe is a thorn in their flesh.
"I have always known this yet I refuse to run away or to be silenced and I will not be cowered. Though I have been warned and told over and over again by those amongst them who care for my well-being that I have been listed down and targeted for persecution I am not in the least bit concerned about their evil plans for me. My life and destiny is in the hands of God and not theirs and He will fight for me and vindicate me.
"As I have always said, the night may be dark but joy comes in the morning. If it was a crime to use moneys that were freely donated by private individuals from lawful and legitimate sources to fund the Presidential and other campaigns let them say so.
"No election campaign anywhere in the world, including that of President Buhari was run with just words, goodwill, grass and pebbles and neither were we given free campaign adverts or air time. All these things were run and paid for with large sums of money.
"This is especially so with publicity and media because that was the lifeblood of the various campaigns. I repeat, there is nothing that we did in the campaign organization or that my Directorate did that Lai Mohammed, Buhari and the APC did not do in theirs. As a matter of fact they spent far more than we did but I have no idea where they got their money and whether they were private or public funds".
Despite the accusation, FFK vowed he would continue to live his life in peace and would not be intimidated by the boastful threats of those he called enemy and he would continue to live his life in the "usual law-abiding manner that I have always done".
FFK claimed It was expedient and necessary for him to speak out now despite that the EFCC has not said a word on the allegation.
Please follow and like us:
Short URL: http://www.africanexaminer.com/?p=29145