Mexico Humble Cameroon, As Referee Disallowed 3 Goals
Latest News, Sports
Friday, June 13th, 2014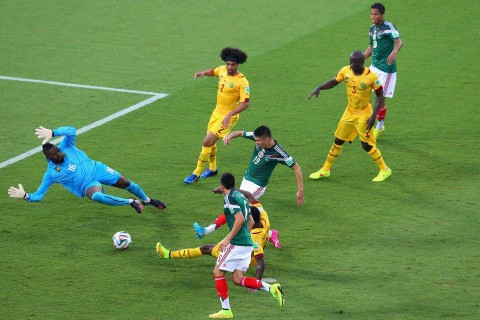 Mexico opened its 2014 World Cup campaign with a hard-earned 1-0 win over Cameroon in Natal, Friday.
Striker Oribe Peralta swept home the winner in the 61st minute, after Giovanni Dos Santos's shot bounced off the midriff of Cameroon goalkeeper Charles Itandje.
Mexico enjoyed greater possession, and had to overcome the frustration of two disallowed first-half goals, a stubborn opponent and torrential rain to earn three vital points in Group A.
Mexico will now play host nation Brazil on June 17 in Fortaleza, while Cameroon will travel to Manaus to play Croatia June 18.
The match will be remembered more the officiating than anything else, but Mexico got the job done in the end
After the opening match of the World Cup was dominated by question marks over refereeing decisions, FIFA may have been hoping for a straightforward 90 minutes, but the officials were not better as Mexico took on Cameroon in Natal.
But they got quite the opposite. Between them, the officials overruled three goals, two of which should have stood.
Please follow and like us:
Short URL: http://www.africanexaminer.com/?p=12596