Nigerian Doctor's Negligence Killed My Son -Nwobodo
Featured, Latest News, News From The State
Wednesday, November 19th, 2014
From Ignatius Okpara
Senator Jim Nwobodo, has declared that his late eldest son, Dr. Ifeanyichukwu Nwobodo who passed on last Friday, died out of negligence of a Nigeria doctor.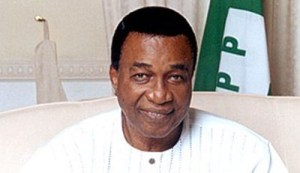 Nwobodo stated that his son was already cured at Anderson medical cancer centre in Huston, Texas USA and was asked to stay longer in USA but that he returned to Nigeria for nolstagia of his family when he developed pains on the legs that took him to a consultant oncologist with the University of Nigeria Teaching Hospital, UNTH, Enugu.
The mourning father disclosed that instead of taking him to the teaching hospital where there are facilities for emergency, the consultant rather referred his son to his private clinic where the doctor administered the deceased with an injection that in no distant moment led to his demise.
Senator Nwobodo made the revelation, when Governor, Chief Theodore Orji, of Abia state paid him condolence visit in his country home in Enugu.
The former governor of old Anambra state and one time minister of sports, further said that the doctor on discovery of the complication of the drug tried to rush his son to Niger foundation hospital where he died even before getting there.
Hear Nwobodo: "My son was five months sick before I knew about it and was planning to go to India before we took him to USA.
"He was given Visa for two years because the cancer was at stage four but they treated him.
"When he came back, his leg started to swell up and he thought he should see a doctor and I advised him to see the best oncologist which took us three weeks to see the doctor on Friday.
"I was speaking with him, three times a day and he was to see the doctor by 5pm and between 5:30 and 6pm, I called him and he said he was with the doctor, I requested to speak with the doctor but he said he was busy but instead of the doctor taking him to UNTH, he took him to his private clinic, where he had no equipment, no facility at all.
"I called him again and when I didn't hear from him I sent him text and I asked the doctor to tell me why he gave my son injection that made him unconscious, he said he was sorry and that he was trying to resuscitate him. I spoke with him by 6 30pm and by 7pm he was dead.
"It is painful because this is something that would have been averted and I can't understand why a dean of department of medicine should leave the hospital where he has all the equipment to go to his private clinic and I believe that is how some other people die." Nwobodo mournfully narrates.
Please follow and like us:
Short URL: http://www.africanexaminer.com/?p=19742